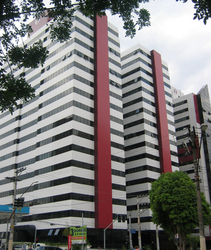 Local equipment, parts and service are readily available, so we're able to respond to the needs of our customers faster than ever before
Birmingham, OH (Vocus) October 17, 2007
Bettcher Industries, a leading worldwide manufacturer of electric and pneumatic meat trimmers and other equipment for food processing operations, announces a major expansion of its company-run operations in Brazil.
The Brazilian headquarters office has relocated to facilities that are nearly twice the size of its original space, including expanded inventory and warehousing facilities. The new office is part of the Austin commercial complex in the São Paulo metro area, conveniently located near the city's airport and other transportation hubs.
According to Edson Bittencourt, managing director for the Brazil office, Bettcher Industries' expansion is the result of significant growth in business activities and sales that have occurred since the company established factory-direct operations in Brazil in 2003. "Local equipment, parts and service are readily available, so we're able to respond to the needs of our customers faster than ever before," he said. Bittencourt noted that each specialist carries a supply of parts and is capable of performing on-site yield and labor savings analysis for immediate customer benefit.
The new office is equipped with the latest wireless technology, enabling it to communicate easily with Bettcher's satellite offices across Brazil, plus other company locations elsewhere in the world. The company serves customers directly from company-run locations, including the important meat producing and processing regions of São Paulo, Goiás, Santa Catarina and Rio Grande do Sul. Among the support it offers customers throughout the region is a 24-hour parts delivery guarantee.
Bettcher Industries is the originator and world's leading producer of electric and pneumatic trimmers. Its customers include all of the major meat and poultry processors in the USA, Brazil, and other important meat producing countries. Its Whizard® Series II Trimmers enable processors to dramatically increase meat yields, while also improving the quality and dollar value of their products. A wide selection of interchangeable blades is offered, each one designed to optimize specific trimming operations.
In addition to their productivity-enhancing characteristics, Whizard® Trimmers are engineered to promote worker safety. Operators can choose from five interchangeable handle sizes, contoured to reduce grip force and improve comfort -- even during periods of extended use.
Established in 1944, Bettcher Industries brings more than six decades of successful innovation to the food processing industry. The company is a leading developer and manufacturer of innovative precision cutting tools for food processing and industrial operations. Based in the United States, Bettcher Industries is an ISO 9001-certified company with direct distribution and service in the USA, Brazil, and more than 50 other countries throughout the world.
Contact Info:
Wayne Daggett
(440) 965-4422
http://www.bettcher.com
###