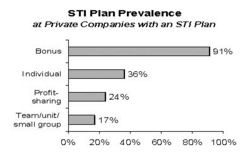 We can expect to see pay practices focus more heavily on linking pay to performance in the near future.
Scottsdale, AZ (PRWEB) October 18, 2007
Private companies rely more heavily on short-term incentives, such as bonuses, than long-term incentives to reward and motivate employees, according to a new study by WorldatWork and Vivient Consulting. Where long-term incentives are used, they are reserved for the upper levels of the organization. Both short-term and long-term incentives are a form of 'variable pay', also known as pay for performance.
Private companies use short-term incentives (STIs) extensively, with nearly 80 percent reporting an STI plan. In contrast, only about one-third of respondents report having a long-term incentive (LTI) plan in place, primarily due to the cost and complexity of implementing such a plan. By far, the most popular type of STI plan is a bonus plan. Nine out of 10 private companies in the survey with an STI plan have a bonus plan. See graph.
"Variable pay is playing an increasingly prominent role for all organizations striving to link employee rewards with bottom line results," said Jim Stoeckmann, compensation practice leader for WorldatWork. "We can expect to see pay practices focus more heavily on linking pay to performance in the near future."
Private companies face unique challenges when designing both short- and long-term incentive programs. Challenges include a lack of liquidity for equity, costly or difficult equity valuation, complexities arising from the ownership structure and competitive data that are geared to public companies.
The WorldatWork and Vivient Consulting study on private company pay practices found that companies' approximate budgets for STIs range from two percent to 12 percent of operating income, with six percent being the median. The budgets were fairly consistent across companies of different revenue sizes.
Source: WorldatWork and Vivient Consulting research report titled "Private Company Pay Practices" (October 2007)
The survey of 300 private companies represented business and professional services; manufacturing; financial services and insurance; retail, wholesale and distribution; health services and high technology. The size of responding organizations ranged from $100 million to more than $5 billion in revenue. The corporate status of responding organizations was primarily C Corp. (37 percent), LLC (26 percent) and S Corp. (20 percent), with a small number of subsidiaries (4 percent) and partnerships (3 percent) also participating.
Media may request a complimentary copy of the research report by contacting mrhodes(at)worldatwork.org.
About WorldatWork®
The Total Rewards Association
WorldatWork (worldatwork.org) is an association of human resource professionals from FORTUNE 500 and other leading organizations worldwide focused on attracting, motivating and retaining employees.
Founded in 1955, WorldatWork provides practitioners with training and education to effectively design and implement strategies and practices in total rewards, including compensation, benefits, work-life, recognition, and career development. With offices in Scottsdale, Arizona and Washington, D.C., WorldatWork supports its 30,000 members and professionals in 75 countries with thought leadership, publications, research and community. WorldatWork administers certification through the WorldatWork Society of Certified Professionals.
The WorldatWork group of registered marks includes: WorldatWork®, workspan®, Certified Compensation Professional or CCP®, Certified Benefits Professional® or CBP, Global Remuneration Professional or GRP®, Work-Life Certified Professional or WLCP®, WorldatWork Society of Certified Professionals®, and Alliance for Work-Life Progress® or AWLP®.
WorldatWork Journal, WorldatWork Press and Telework Advisory Group are part of the WorldatWork family.
Press Contact:
Marcia Rhodes, APR
Media Relations
WorldatWork
Phone: 480/348-7285
E-mail: mrhodes(at)worldatwork.org
http://www.worldatwork.org
This press release was distributed through eMediawire by Human Resources Marketer (HR Marketer: http://www.HRmarketer.com) on behalf of the company listed above.
###