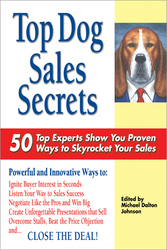 Most small business owners don't have the budget to bring in the best experts to train their sales staff
Carlsbad, CA (PRWEB) October 18, 2007
Small and medium-sized companies are usually at a disadvantage when competing with large corporations. However, they now have access to the same expert sales advice that major companies pay thousands for thanks to the new bestselling book, Top Dog Sales Secrets.
"Most small business owners don't have the budget to bring in the best experts to train their sales staff," says Michael Dalton Johnson, Editor of Top Dog Sales Secrets. "So we've put together the best of the best advice from 50 nationally known sales experts - people like Tony Alessandra, Bill Brooks, Roger Dawson, Linda Richardson, and Julie Thomas. This is advice major corporations happily pay tens of thousands for, all between the covers of one book," says Johnson.
The roster of companies the authors have trained reads like a Who's Who of American business and includes companies like 3M, AT&T, Avon, Cisco Systems, DuPont, Hewlett-Packard, IBM, Microsoft, Motorola, and Sprint. Their advice covers all aspects of the sales process from prospecting to presentations to negotiating and closing.
Collectively, the contributing authors have trained tens of thousands of sales professionals and increased sales revenues for hundreds of companies. Together they have authored over 250 books on sales and selling. The list of authors includes over 40 internationally acclaimed speakers, over 40 business consultants, the Presidents/CEOs of over 25 companies, and over 40 sales trainers.
Top Dog Sales Secrets is available directly from the publisher at SalesDog.com or from Amazon.com and other online retailers.
About SalesDog.com
SalesDog.com features advice from America's leading sales experts. Their free weekly newsletter has over 25,000 subscribers.
###