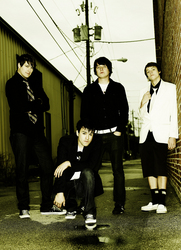 Clearwater, FL (PRWEB) October 19, 2007
Radio Reset, formed in 2006 in Clearwater, FL, are Andrew Arthur, lead vocals and co-writer; Andy Pardue, guitar, background vocals and co-writer; Mark Allen, bass; and Johnny Coryn, drums. In 2006 Radio Reset took first place in the Southeast region of the US Global Battle of The Bands ,and competed in the National finals at the esteemed Key Club in Los Angeles. They have continued to perform to both small and large audiences at select dates in the Tampa/Clearwater area as well as other venues across the United States that includes "House of Blues," in Las Vegas and "The Wheeler Opera House" in Aspen, Colorado.
Radio Reset has opened for various national and international recording artists. The band's sound has proven appealing to all ages. Songwriting team Andrew Arthur and Andy Pardue continue working in the studio on a daily basis, writing songs faster than they can record them. That is the focus of Radio Reset, creating a sonic force that is a blend of each member's musical influences and style. From U2 to the Beatles to Jimmy Eats World, Radio Reset touches an expanse of musical decades without exploiting them.
Wanting to make sure they aligned themselves with a company representing their ideas and interests, Radio Reset patiently and carefully selected from all offers and opportunities which had been presented to them. Recently announced President of Pound 4 Pound Records, Herb Dorsey, took notice of Radio Reset while holding a non related business meeting at their studio. Dorsey, 29, accepted the position at Pound 4 Pound Records with a strategic plan to take the company to the next level of producing great music. His vision is inspired by those he idols in the industry such as Sean "P-Diddy" Combs, Russell Simmons, and Chris Lighty. He made his first impression in the industry in 2001 working with local artists as well as hosting and promoting EA Sports Madden Tournaments. At the start of this year, Herb and Pound 4 Pound Records owner, Winky Wright discussed taking the label to a new level. Dorsey reached out to Ivan Rivera with One Shot Management and Grammy winning J.U.S.T.I.C.E. L.E.A.G.U.E, which has produced tracks for a number of A-list artists including Grammy winner, Mary J. Blige. When Dorsey, Wright and Rivera heard Radio Reset, they knew this band was special.
Winky Wright's professional boxing career propelled him to worldwide celebrity status which allowed him to network with some of the music industry big dogs. At the age of 36, Winky is a 17-year pro and a two-time world champion at 154 pounds. Wright became the division's first undisputed world champion in 29 years and the first-ever to hold all three major world titles - the WBC / WBA / IBF championships when he won a 12-round unanimous decision over WBC/WBA super welterweight champion Sugar Shane Mosley. After 16 years, Wright is now a consensus member of the elite "Pound-for-Pound Champions" top-five. This past year Wright announced the creation of his boxing promotional company Winky Promotions.
Violator Records/Management CEO Chris Lighty is not only Winky Wright's manager, but will also act as Co-President of Winky Promotions. His respect for the streets, and a belief that its culture deserves worldwide attention, has already been an integral part of the success of rap superstars such as Busta Rhymes, De La Soul, Foxy Brown, LL Cool J, The Jungle Brothers, A Tribe Called Quest, Q-Tip, Missy Elliott and most recently 50 Cent. Along with his partners Mona Scott and Todd Moscowitz, Lighty has elevated to unprecedented heights. Violator has sold between 8 and 10 million records for the last 6 years, and Lighty has seen the last 7 CD's by Violator Records artists enter the Billboard Top 200 Pop album Charts in Top 10. With its vast resources, Lighty and Violator are extending their clients into films, television, advertising and wireless businesses and, with Violator Marketing Group (VMG), are pushing their artists to even more mainstream success.
###