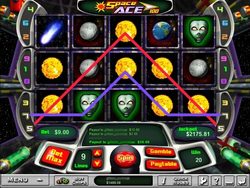 As I like to say, events like this prove that anyone can win at Everest Casino!
Montreal, QC (PRWEB) October 18, 2007
Everest Casino http://www.everestcasino.com today announced a German player had won a jackpot of $101,572 while playing Space Ace, one of the online casino's most popular online video slot machines. The original bet amount was $9, meaning the player received a return of 11,288x. The player, who has chosen to remain anonymous, was an Everest Casino member Casino for 47 days prior to winning this jackpot.
"This is one of the biggest Jackpots I've had the pleasure of seeing," said Eduardo Santos, Everest Casino property manager. "As I like to say, events like this prove that anyone can win at Everest Casino!"
Space Ace is a science-fiction themed video slot machine where starships, aliens, supernova, nebulae, and other familiar outer-space icons serve as symbols. In addition to fast-moving gameplay and high-quality graphics and sound, the Space Ace video slots game also features a Planetary Plunder bonus round offering additional winnings along with a gamble option that lets players double or quadruple their earnings with each bet.
Santos added: "The visuals and sound in our Space Ace video slot machine easily rival the best Vegas has to offer, and you can play it without having to worry about paying for a flight or hotel! We'll even double your first deposit with a welcome bonus of up to $100!"
Everest Casino and its affiliated gaming sites have paid out a total of over $70,000,000 since the beginning of April, 2007 to over 7,000 players. Everest Casino offers Progressive and Instant Jackpots in its lineup of ground-breaking traditional and video slot machines as well as Instant Jackpots in its collection of 19 video poker games, and is the only online casino to offer 500-hand video poker.
For more information and to download free casino software, visit http://www.everestcasino.com .
About Everest Casino:
Everest Casino is a world-class casino gaming site translated into French, German, Italian, Spanish, Portuguese, Dutch, Japanese, Norwegian, Swedish, Danish, Hebrew, Greek and Chinese. Imperial Casino is a property of Ultra Internet Media ("UIM"), a premier global operator of online casinos. UIM's brands include Casino Elegance, Casino Fantasy, Casino Glamour, Casino Lux, Casino Treasure, Imperial Casino, Everest Poker and Everest Casino.
To subscribe to Everest Casino's press releases, add http://www.rsspad.com/EverestCasino.xml to your RSS reader.
###