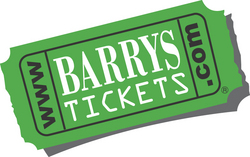 Its been over 22 years since David Lee Roth was on stage with Eddie and Alex Van Halen and we have tickets for every amazing moment of their concerts
(PRWEB) October 18, 2007
You can purchase Van Halen Tickets immediately at 800.348.8499 or at Barrystickets.com. Barrys Tickets service has the largest secondary market inventory of Van Halen tickets at the best prices.
"Its been over 22 years since David Lee Roth was on stage with Eddie and Alex Van Halen and we have tickets for every amazing moment of their concerts" said Chris Cabrera CIO "Some of the biggest shows on the tour are Dec 14th Staples Center, Dec 18th and 20th Honda Center, and Dec 30th MGM Grand but we have great seats for all their shows. Many online ticket websites and brokers don't carry physical inventory or as an extensive inventory as Barry's Ticket Service, and they actually buy from us and mark it up to sell to clients...By purchasing from Barry's Ticket Service you cut out the middle man and save money
About BarrysTickets.com
At Barry's Tickets Service have been providing our clients with hard-to-get and premium tickets to all major worldwide, national and local events since 1984. An upstanding member of the National Association of Ticket Brokers (NATB) and BBB reliability and customer service are cornerstones of Barry's business philosophy. Barry's strives to bring you the largest selection of tickets available with at the lowest prices. Barry's Tickets is also a proud member of the Chamber of Commerce and prides itself on transactional security.
When you order tickets on http://www.barrystickets.com, you can be assured that you will have a simple and secure transaction. Great customer service is just a phone call or e-mail away. If you have any questions regarding tickets, or are interested in tickets for an unlisted event, please email or call us at 800.348.TIXX (8499).
###