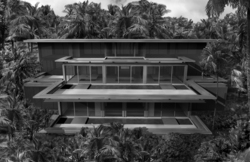 The juxtaposition of the tropical setting with indigenous Brazilian wildlife and flora, panoramic ocean views, and pure white sand on a secluded beach will provide a truly once-in-a-lifetime experience for members
Scottsdale, Ariz. (PRWEB) October 18, 2007
Solstice, the ultra-leader in the $2 billion destination club industry, is pleased to announce the acquisition of a luxury villa within the stunning eco-resort development of Warapuru, nestled in a protected rainforest canopy along the unique coastline of Itacarè, Brazil. Warapuru, designed by internationally-acclaimed and London-based Anouska Hempel Design, has been heralded by notable architecture and travel magazines as one of the most anticipated designs for the upcoming year.
Set upon one of the best beaches in the world, the Solstice villa is scheduled for completion early 2008. Solstice is the only private destination club to have been invited to own one of the18 private villas within this luxury gated enclave.
The earth-friendly luxury resort will make thorough use of indigenous materials of Brazilian teakwood and limestone. The sleek, contemporary design of the Solstice home is skillfully integrated with and subtly contrasted by the lush surrounding forest. As a signature feature of the Anouska Hempel design, the minimalist villa is delicately placed in the rainforest landscape to ensure privacy while panoramic views open to the beach and beyond. More than 2,000 tons of Brazilian limestone encases the interior and exterior of the home and a perfectly-balanced 18-foot tall Brazilian teakwood door pivots with the touch of a finger, offering passage to this thoroughly unique home.
"The juxtaposition of the tropical setting with indigenous Brazilian wildlife and flora, panoramic ocean views, and pure white sand on a secluded beach will provide a truly once-in-a-lifetime experience for members," noted Solstice Founder Graham Kos. "Our stunningly modern home and its surroundings are unlike any other place and experience that the world has to offer."
Atop each of the villa's expansive three floors, Solstice members will enjoy a private plunge pool and sun deck. The villa's dual master-suite configuration and additional three bedrooms provide spacious accommodations for guests. Members will also enjoy the beck and call of a private butler and a motorized golf cart to tour the lush resort grounds. Solstice members will enjoy full access to the ultra-exclusive Warapuru Resort, which includes a world-class spa, beach club with restaurant, fitness and tennis center. The charming fishing village of Itacarè, located ten minutes from Warapuru, offers unique dining experiences as well as family-friendly activities and an array of eco-adventures.
Solstice has recently been recognized by Robb Report as Best of the Best 2007 Destination Club and Business Britain's as the Best International Destination and Private Residence Club. Solstice lives up to its exceptional quality standards by meticulously evaluating and adding only the most unique homes to its international collection. Current Solstice locations include St. Barths, Paris, Florence, Telluride, and Napa Valley, among others.
About Solstice
Solstice is recognized internationally as the "Best of the Best" by Robb Report and Best Internationally 2007 by Business Britain. As the leader in the ultra-luxury segment of the $2 billion destination club industry, Solstice appeals to affluent global consumers seeking a suitable alternative to second-home ownership. The company's members receive the highest levels of personalized service and virtually unlimited access to a collection of $6.5 million artisanal homes situated in the top 25 global elite travel markets including; Aspen, Napa Valley, Florence, London, Paris, New York, Cabo San Lucas, St. Barths, Brazil and Telluride, along with a private 90-foot yacht that explores the British Virgin Islands. For more information, visit http://www.solsticecollection.com.
###