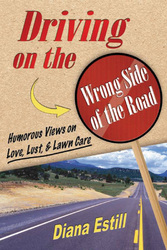 I fit all the classic patterns
Dallas, TX (PRWEB) October 18, 2007
An estimated 46 million Americans suffer from Seasonal Affective Disorder (SAD), but Texas resident and humor author Diana Estill was surprised to learn that she was among them.
"I fit all the classic patterns," says Ms. Estill, author of Driving on the Wrong Side of the Road: Humorous Views on Love, Lust, & Lawn Care (Brown Books Publishing). "I oversleep during the winter months, can't stay awake past eight p.m., crave enough carbs to be classified an herbivore, and weep when a grocery checker asks me personal questions like, 'Did you find everything OK?'"
SAD is a mood disorder that occurs during the fall and winter months, most notably after Daylight Saving Time has ended. Sufferers react to reduced exposure to ultraviolet light and the corresponding decline in brain chemical levels.
Laughter, which is always good medicine, has been found to increase serotonin levels and boost everything from mental health to blood circulation. Anything that provides a good chuckle or guffaw, whether that is gathering with friends, watching a funny movie, or reading an amusing story or book, can help improve SAD symptoms.
According to Ms. Estill, writing humor can be equally therapeutic. During the winter months she focuses on life's ironies and absurdities and writes about funny topics, such as how to navigate a mall with a man and tackling your own toilet repairs. Her book, Driving on the Wrong Side of the Road, includes 55 tales of misadventures in travel, home repairs, and suburban life.
Readers frequently compare Ms. Estill, whose columns and essays have appeared in The Dallas Morning News for more than a decade, to the late humor columnist Erma Bombeck.
Driving on the Wrong Side of the Road will be released in audio book format (a 2-CD set), November 9, 2007. This title is currently available for preorder at Amazon.com. The paperback version of the book is available online and in bookstores.
Diana Estill will be signing copies of her book at Barnes & Noble, 5301 Beltline Road, Dallas, TX, Saturday, November 17, from 2 to 4 p.m.
To learn more about Ms. Estill or to request a review copy of her book, please visit http://www.TotallySkewed.com or contact her by phone.
Additional Resources:
Link to audiobook
YouTube video book trailer
###