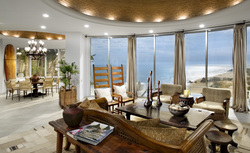 We've consistently raised our deposit prices over the last three years to ensure that we are able to buy in top-tier global markets without sacrificing on quality
Scottsdale, Ariz. (PRWEB) October 18, 2007
Solstice, the ultra-luxury leader in the $2 billion destination club industry, announced increases in the membership deposits required to access its expanding international collection of private homes, effective November 15. Solstice also plans to substantially add to its current portfolio with over $50 million of additional acquisitions in the top 25 global elite travel destinations by the end of 2008. The price increase follows the Club's earlier acquisition announcement of a remarkable beach home in Brazil.
Solstice's growing collection is comprised of artisanal homes that are situated in the very best international locales, including Aspen, Cabo San Lucas, Napa Valley, Florence, Paris, and St. Barth's, among others. "We've consistently raised our deposit prices over the last three years to ensure that we are able to buy in top-tier global markets without sacrificing on quality," remarked Solstice Founder Graham Kos.
"We recently added a second beachfront home in Cabo San Lucas and two urban 'glass houses' in New York City, expanding our portfolio in high-demand markets," Kos continued. "In a more exotic location, popular among global luxury travelers, our just-announced Warapuru home is situated where the rain forest meets the white-sand beach just outside the charming Brazilian fishing village of Itacarè. It's a one-of-a-kind combination of exotic nature within an exclusive and intimate boutique resort which will provide our members a truly unique experience. I've traveled the world, and this is as good as it gets."
Solstice has the highest home values of $6.5 million average among active destination clubs. Effective November 15, 2007, deposit requirements for Solstice Signature and Platinum memberships will increase to $615,000 and $975,000 respectively. The Club's $1.95 million Sky Memberships are currently on a waiting list.
The Club experienced record growth over the summer with expansion of its membership deposit base by more than 24%. "With three-quarters of new Solstice members coming from direct referrals since the beginning of the year, member satisfaction is high and confirms the demand for our combination of artisanal homes paired with personalized services," commented Tim Wolff, chairman of Solstice.
Solstice has also recently launched an enhanced website (http://www.solsticecollection.com) that takes site visitors directly into the collection for viewing with large, dramatic images of its international portfolio. New site enhancements also include a convenient "zoom and move" feature to promote easy viewing of floor plans.
About Solstice
Solstice is recognized internationally as the "Best of the Best" by Robb Report and Best Internationally 2007 by Business Britain. As the leader in the ultra-luxury segment of the $2 billion destination club industry, Solstice appeals to affluent global consumers seeking a suitable alternative to second-home ownership. The company's members receive the highest levels of personalized service and virtually unlimited access to a collection of $6.5 million artisanal homes situated in the top 25 global elite travel markets including; Aspen, Napa Valley, Florence, London, Paris, New York, Cabo San Lucas, St. Barths, Brazil and Telluride, along with a private 90-foot yacht that explores the British Virgin Islands. For more information, visit http://www.solsticecollection.com.
###