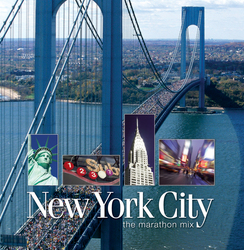 I've played this mix in clubs around the world and the crowds have always had a special connection with this track.
Los Angeles, CA (PRWEB) October 18, 2007
With momentous celebration, Kunduru Music announced today that they have signed an epic deal with The New York Road Runners for the New York City Marathon 2007. The New York City Marathon has officially endorsed a song from Kunduru Music titled 'New York City' for this year's event. The endorsement of a sound recording is a first in the Marathon's history. Setting the stage and tone for the annual event, 'New York City' will play prominently during NBC Television's New York City Marathon coverage broadcast on Sunday, November 4, 2007.
As a keepsake, a specially packaged 'New York City' CD single will be dispersed to the 42,000 marathon participants in their gift bags. Included on the CD is the original version of 'New York City,' performed by Living Theater featuring FuMan Freak from 'Living Theater Act Two,' as well as Tracy Young's dance remix found on 'Tracy Young Remixes Living Theater' - both titles from Kunduru Music.
"It's an unbelievable honor for our label's music to receive the endorsement of such an institution as the New York City Marathon," stated Joseph Baldassare, President of Kunduru Music. "Packaging the CD single with an iconic photo of all the marathon runners crossing the Verrazano Bridge really touched my proud New Yorker heart."
Tracy Young was approached by Kunduru Music to create an entire album of remixes of 'chill-out' tracks from their 'Living Theater' collection. This venture rendered the eclectic and unique 'Tracy Young Remixes Living Theater.' The album is an excellent example of Tracy's talents as a re-mixer and producer and showcases her diverse, global influences.
"The song 'New York City' is a timeless inspirational track celebrating the spirit and energy of New York like no other," expressed Tracy Young. "I've played this mix in clubs around the world and the crowds have always had a special connection with this track."
Kunduru Music's 'Living Theater' series is available for purchase at Bergdorf Goodman and online at http://www.kundurumusic.com .
About Kunduru Music and the 'Living Theater' Series
The home of the world-renowned 'Living Theater' series, music company Kunduru Music first made a name for itself on the Greek Islands (the name Kunduru is taken from ancient Greek language, referring a stone used to document charitable donations.). While living and working in Athens as a music producer for Universal Music Greece, 'Living Theater' creator Joseph Baldassare released the first volume of the series, ('Living Theater Act One - Modern Music for Modern Minds') and immediately attracted the attention of over thirty music companies requesting licenses for his songs. From Paris to Sydney, New York to Singapore the series instantly became a global musical mother ship that attracted immense attention and respect from the musical marketplace, with its eloquent display of cultural and musical diversity. The multicultural approach would seem ambitious enough, if it weren't for the fact that Joseph Baldassare arranges, composes and produces every track found on the series. From Bossa Nova to Middle Eastern instrumentals, from Italian Opera to Jazz, it is hard to believe that one man has the ability to understand such diversity let alone respectfully compose music honoring its heritage. Woven like a musical tapestry, 'Living Theater' literally takes the listener around the world in sixty minutes by creating a global musical landscape touching down for several minutes before lifting off to its next destination. Transcending all borders of language, 'Living Theater' effortlessly brings together our world through music. As 'Living Theater' composer/creator/producer Joseph Baldassare says, "If the world is a stage, then we are all 'Living Theater.'" For more information please visit: http://www.kundurumusic.com.
About Tracy Young
Miami-based producer/remixer/DJ Tracy Young has worked her magic on a repertoire of remixes. As one of a handful of accomplished re-mixers in the world, she has infused her signature style into the Latin rhythms of Enrique Iglesias, Gloria Estefan and Shakira, the eclectic sounds of the Pet Shop Boys and Simply Red, and has put a fierce dance spin on icons such as Christina Aguilera, Stevie Nicks, Cyndi Lauper and Madonna, administering a musical symphony to the latter's hit 'Music' that Billboard Magazine called 'an emotional masterpiece.' Tracy's career turned the corner when she met club impresario Ingrid Casares and landed a residency at legendary South Beach club Liquid. Tracy delivered the beat and brought the house down for events, including parties for Lenny Kravitz, The Smashing Pumpkins, Ricky Martin, Sean 'Puffy' Combs, Russell Simmons, Cher, and numerous others. Madonna was so impressed with Young that she utilized her talents to spin at her movie premiere for 'The Next Best Thing' in New York, her CD release party for 'Music' in LA, and bestowed upon Young the honor of playing for her and Guy Ritchie's wedding reception in Scotland. Tracy also appears on a live radio show on Miami's Party 93.1 dance music channel, residencies at New York City's ROXY nightclub and Miami's Space. For more information on Tracy Young please visit: http://www.tracyyoung.com.
For media inquiries please contact:
Jim Strzalkowski T: 818-817-7718 Email: jimstraz@aol.com
###