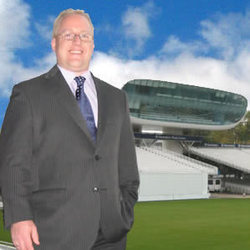 This not only leads to greater efficiency and control but also improved business performance, with one PLC client enjoying 300% increase in incremental sales within four months of implementing an earlier version of the system
Milton Keynes, England (PRWEB) October 22, 2007
Milton Keynes firm Web Office Systems launched their latest product at the iconic Media Center, Lord's Cricket Ground.
"Regarded as one of 'The Fifty Best Buildings in Britain' the venue proved an apt location for showcasing FuseMetrix, our world class business system" claims Managing Director, Matthew Ballinger.
"Just as the Media Center provides the best view of all the action as it happens on the pitch, FuseMetrix provides decision makers with the best view of their business, providing them with greater insight over the whole organization, in real time, all the time."
An invited audience were suitably impressed with the benefits of FuseMetrix, a seamless system proven to help businesses 'gain and sustain, a competitive advantage' by incorporating Accounts, Warehousing, Distribution, Customer Relationship Management, Marketing, Sales, Human Resources and more. "This not only leads to greater efficiency and control but also improved business performance, with one PLC client enjoying 300% increase in incremental sales within four months of implementing an earlier version of the system" explains Matthew.
With optional modules including EPOS systems, the system can be further customized to client's requirements. Although a single companywide system, FuseMetrix delivers many advantages including:

Greater control
Greater accuracy
Greater efficiency
Greater agility
Greater customer satisfaction
Greater performance
Greater growth
Greater profitability
FuseMetrix allows business professionals the ability to access data on all aspects of their organization in real time, wherever they are in the world. Business intelligence on demand, in the format they desire, ensures decision makers create and exploit opportunities in a fast paced and dynamic commercial environment, with added confidence.
The Lord's attendees learned that as a browser based complete office system, FuseMetrix eliminates the need for costly hardware and differing software systems, with all the data hosted and managed at a state of the art data center in Docklands, London. The benefit of hosting data remotely allows greater protection from internal misuse or the threat of external hackers and virus attacks. With data accessed via encrypted connections, similar to that used by online banks, clients have both peace of mind and greater control over their business.
The flexibility of this secure software system has benefited clients around the globe including those located in Silicon Valley, California. For further information on how FuseMetrix has helped clients across all industry sectors click on the case study links below:
The company's key strength is the ability to understand businesses and the challenges they face, whatever their size, whatever the sector they are operating in. The ability to successfully deliver a holistic solution that integrates the whole organization utilizing the FuseMetrix platform, ensures that Web Office Systems are regarded as a valued partner in the eyes of their clients.
Driving businesses forward across a variety of sectors from manufacturing, distribution, civil aviation, healthcare, financial services, leisure, retail and e-commerce Web Office Systems have worked in partnership with a variety of corporations from SME's to PLC's since 2002.
Web Office Systems' commitment to delivering quality solutions has been recently recognized with an ISO 9001 accreditation. The internationally recognized award acknowledges the company's drive for exceptional quality of service. With only around 3% of UK business holding this accreditation, Web Office Systems are at the forefront of quality service and customer care.
For further information on FuseMetrix call Web Office Systems free on 0800 043 50 40 (Intl. +44 (0) 1908 522444
###