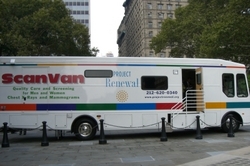 We are committed to ensuring that 100% of those with positive diagnoses will receive the full course of treatment for TB
New York (PRWEB) October 19, 2007 -–
Project Renewal, a not-for-profit organization uniquely dedicated to providing everything New York's homeless population needs to move from the street to healthy independent living, today announced the official launch of the ScanVan, the nation's first mobile mammography/ radiology clinic. ScanVan is the first and only mobile clinic that provides mammograms to screen for breast cancer and chest x-rays to screen for tuberculosis.
The 40-foot, ScanVan is staffed with three trained medical professionals and outfitted with state-of-the-art equipment, including a new $183,000 Canon digital x-ray unit for chest x-rays and tuberculosis screening and the top-of-the-line $68,000 GE Performa unit specifically designed for administering mobile mammograms to screen for cancer.
Project Renewal extends a heartfelt thank you to New York City Council Speaker Christine Quinn and the entire City Council in making ScanVan a reality. The City Council provided $600,000 in capital funding for the purchase of both the examination equipment and vehicle itself. In addition, Project Renewal is particularly grateful for the generous support of Commissioner Robert Hess, New York City Department of Homeless Services.
The new clinic-on-wheels, in development for three years, will travel to all five boroughs and serve approximately 5,000 poor and homeless New Yorkers annually, regardless of whether they have medical insurance. For all positive screenings, Project Renewal initiates and ensures follow-up treatment, and offers uninsured patients assistance in obtaining Medicaid, including emergency Medicaid for those with positive diagnoses. The announcement is particularly timely, as October served as National Breast Cancer Awareness Month, dedicated to increasing awareness about the importance of the early detection of breast cancer through a nationwide campaign. Each year at this time since 1985, member organizations join forces to spread the message that early detection of breast cancer followed by prompt treatment saves lives.
"Today's launch of ScanVan represents a tremendous new avenue of hope for thousands New York's neediest citizens," said Edward I. Geffner, president and CEO, Project Renewal, which is celebrating its 40th year of assisting the homeless. "We are now able to provide sophisticated screenings and timely referrals that can lead to longer, healthy lives for those less fortunate. Project Renewal's new ScanVan is making it easier and more accessible for the homeless population to be proactive with their healthcare and is a model for other cities across the nation."
Project Renewal is collaborating with several key city and state agencies in the ScanVan program. For TB screening, it is partnering with the New York City Department of Health and Mental Hygiene (Bureau of TB Control) and Department of Homeless Services. For breast healthcare, Project Renewal is working with the New York State Department of Health's Cancer Services Program, several of the city's Healthy Women's Partnerships, the American Cancer Society, Bellevue Hospital's Breast Health Partnership and North General's Ralph Lauren Breast Center. These collaborations will ensure that thousands of homeless and poor New Yorkers will be protected from TB and breast cancer, including many men and women living with HIV/AIDS.
A tremendous need
The need for such a service is great. A study last year by the New York City Department of Homeless Services and Department of Health and Mental Hygiene shows that homeless people contract tuberculosis at a rate 11 times that of the general population. Current data also show that 46% of the city's homeless population has positive tuberculin skin tests, indicating exposure to tuberculosis. A chest x-ray is essential to diagnose whether an exposed patient has active TB.
However, several barriers-to-care prevent homeless people exposed to TB from obtaining chest x-rays. To save lives and address this dangerous deficiency in the public health defenses, the ScanVan will serve as the nation's first mobile clinic that will travel directly to the poor and homeless in order to provide TB testing and chest x-rays. "We are committed to ensuring that 100% of those with positive diagnoses will receive the full course of treatment for TB," said Geffner.
Studies also show that a majority of poor and homeless women in New York have no access to breast health services, particularly mammograms. African American women – who tend to be diagnosed at a later stage of breast cancer, have more aggressive tumors and suffer higher mortality rates – are a target population for the ScanVan, especially since they make up approximately 65% of homeless women in New York. Project Renewal guarantees that 100% of its patients with abnormal mammograms will receive their results, obtain emergency Medicaid and be escorted to one of its affiliate hospitals for care. They are also committed to re-screening at least 60% of their patients within 18 months.
Experts in mobile healthcare for the needy
Project Renewal is qualified to launch ScanVan, as its medical staff has paved the way in developing the specialized practice of medicine for the indigent. In 1986, the organization launched MedVan, the nation's first mobile primary care clinic for homeless people. Project Renewal also currently operates four other Primary Care Clinics, licensed by the State of New York, including the recently launched StreetSmart van, a mobile primary care clinic for homeless youth. Two years ago, they opened their PRI Dental Clinic, the first such unit dedicated to serving homeless New Yorkers.
About Project Renewal
All of Project Renewal's programs are based on a philosophy of personal responsibility and mutual respect among clients and between staff and clients. The Project Renewal philosophy also emphasizes employment and development of good work habits as the means for rebuilding clients' self-esteem and nurturing a sense of self-discipline.
Having helped thousands of indigent New Yorkers renew their lives, Project Renewal, celebrating its 40th anniversary, is proud to be regarded as one of the nation's most respected organizations working on behalf of homeless people. This was recently confirmed by the U.S. Department of Housing and Urban Development (HUD), which honored the organization with the John J. Gunther Blue Ribbon Best Practices Award for excellence in community outreach and management. With a staff of nearly 600, of whom more than 35% are formerly homeless clients, Project Renewal reaches out to more than 13,000 homeless men and women each year. For more information about Project Renewal and ScanVan, please visit http://www.projectrenewal.org .
Media Contacts:
Karen Parziale, 201-222-1309, cell 201-927-8536, kmparziale(at)aol.com
Jack Mello, cell 201-981-5617, jack.mello(at)gmail.com
# # #