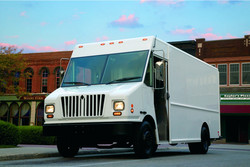 Second, this design clearly says this is a truck, and a truck than can do some heavy lifting
Union City, IN (Vocus) October 18, 2007
A lot has changed under the skin of the walk-in truck recently. Now it is also going to look a bit different.
The premier delivery vehicle that is the backbone of the nation's largest truck fleets, and a versatile model of durable, workaday efficiency, is getting a new nose and front grill that will clearly define it as a Workhorse truck.
This exterior face-lift is the latest in a series of significant walk-in changes introduced by Workhorse Custom Chassis, which manufacturers chassis for walk-in trucks, motor homes and buses. Workhorse is a wholly owned subsidiary of International Truck and Engine Corporation, and the grill of the new nose design makes the Workhorse walk-in a clear cousin of International's models.
Workhorse-International synergy
"This design communicates a number of things," said Jay Sandler, Workhorse vice president — commercial product. "First, this is a Workhorse truck that is obviously part of the International family. It shows at a glance the great synergy that is developing between Workhorse and International that reinforces our plan to grow the walk-in market for smaller fleets and the off-the-lot buyer."
"Second, this design clearly says this is a truck, and a truck than can do some heavy lifting," said Sandler. "As such, it communicates the capabilities of our new heavy-duty 23,500 lb. GVWR W62 chassis in respect to the tough jobs that trucks are needed for."
Aimed at retail customer
"Third, this is a new look for a class of vehicle that has been pretty static in its appearance, but not static in terms of the significant automotive improvements that have been happening under the body. In that regard, this is aimed at the retail customer. We expect major fleets will continue to spec the same nose design they've been using, but for smaller fleets, and those who haven't used a walk-in before, this new front says, 'take a look at what's different!' If we get more of those folks to take a new look at what walk-ins can do, we think we'll have a delivery and work truck solution that a lot of new customers will appreciate.
"Accordingly, we're very excited about getting this truck out on dealer lots," said Sandler. "This new design will only be built on Workhorse chassis, and so it will truly be a "Workhorse truck" in appearance as well as in operation." Both Morgan Olson and Utilimaster will provide the bodies.
First appearance this month
The initial Workhorse model is now available on an 86-inch wide body. Within the next couple months, a 96-inch wide body will be offered. Both models have cargo body lengths from 10 to 22 feet, built on the full range of Workhorse gas and diesel chassis options from 9,400 lb. GVWR to 23,500 lb. GVWR. Workhorse uses General Motors 4.8, 6.0 and 8.1L Vortec™ gas engines and International's 4.5L MaxxForce™ 5 V6 diesel powerplant.
The new truck made its first public appearance as part of the International Baking Industry Exposition in Orlando, Fla., Oct. 7 to 10. This week it is at the International Construction and Utility Equipment Exposition in Louisville, Ky.
This is the third major announcement involving Workhorse products this year. Workhorse launched its new heavy-duty W62 truck chassis in March. The W62 is the first chassis to offer both gas and diesel engine options in the higher 19,500 lb. and 23,500 lb. GVWR range for walk-in trucks. In May, Workhorse announced a variety of Extended Service Coverage plans to boost the warranty options available with each of its chassis models.
Look out for more walk-ins on the road
"The new walk-in capabilities we've created, combined with a growing number of International dealers adding Workhorse to their portfolios, bodes well for the growth of this truck category. These trucks are going to be more accessible and more useful to more businesses than ever before," said Sandler.
"Once businesses try a walk-in, they don't go back to whatever medium-duty truck they were using. And, with the recent chassis upgrades we've developed to go along with this body upgrade, that's going to be more true than ever."
Workhorse Custom Chassis
Workhorse Custom Chassis is ISO 9001 certified and a leader in the manufacture of chassis for motor homes, walk-in trucks and buses. It is a wholly owned subsidiary of International Truck and Engine Corporation. For additional information call
877-294-6773 or visit http://www.workhorse.com.
Navistar International Corporation (Other OTC: NAVZ) is a holding company whose wholly owned subsidiaries produce International® brand commercial trucks, MaxxForce brand diesel engines, IC brand school and commercial buses, and Workhorse brand chassis for motor homes and step vans. It also is a private-label designer and manufacturer of diesel engines for the pickup truck, van and SUV markets. The company also provides truck and diesel engine parts and service. Another wholly owned subsidiary offers financing services. Additional information is available at http://www.Navistar.com.
###