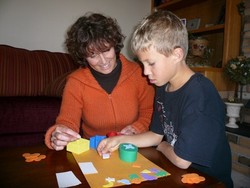 A Fist Full of Coins
Sedona, AZ (PRWEB) October 23, 2007
Developed by a 20-year veteran in working with children with special needs, "A Fist Full of Coins" -- board game -- is the culmination of Sandy Newman's extensive experience and knowledge in effectively helping children (and adults) learn where other methods have failed.
"As a child, I too had learning difficulties, and it has given me a great deal of insight into what children with learning difficulties think and feel," said Sandy Newman. "This has allowed me to use my creativity to develop a therapist tool in the form of a game that is exciting, fun and effective."
For more information, and to see video of "before and after" case studies, testimonials and scientific support, go to http://www.nomorelearningdisorders.com
The evolutionary board game... "A Fist Full of Coins," assists in creating a 'pathway' within the brain, connecting left and right hemispheres, as the brain performs the required tasks to play the game.
"Children do not realize just how many different tasks the brain is performing while playing. Because the setting for the game is casual and seemingly has low expectations, but high motivation, the children eagerly anticipate the fun," said Newman.
Brain research provides information that explains what happens inside the brain when it is being stimulated by multi sensory games such as "A Fist Full of Coins." Recent research supports the theory that "A Fist Full of Coins" can potentially help higher functional children/adults with the following conditions...

Autism
Fetal Alcohol Syndrome
Fragile 'X' Syndrome
ADD/ADHD
Degenerative brain diseases (commonly found in the elderly)
Stroke victims
Brain injury victims
For more information, and to see video of "before and after" case studies, testimonials and scientific support, go to http://www.nomorelearningdisorders.com
###