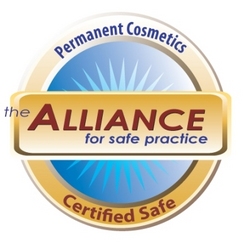 Every time you lick your lips, you're basically eating lead.
Arlington, TX (PRWEB) October 19, 2007
The Alliance for Safe Practice (ASP), a non-profit organization, promoting research and safety in permanent cosmetic practices, offers support and solutions to consumers and cosmetic manufacturers facing potential product recalls amid recent reports that many of the top brands of lipstick sold in the US contain high levels of lead and applying lead-containing lipstick several times a day, every day can add up to significant lead exposure. The Alliance for Safe Practice, the American Board of Permanent Cosmetics, and Premier Pigments (a leading manufacturer for permanent cosmetics), announced their "Get the Lead Out" campaign to promote a safer and more permanent alternative to lead contaminated lipstick. Anyone who brings an old tube of lipstick to a participating permanent cosmetic professional will receive $50 off their permanent makeup procedure. To locate a participating technician in your area, call toll free 1-866-417-6826.
"Alliance for Safe Practice (ASP) certified permanent cosmetics are the perfect solution for women who want to avoid contaminants and heavy metals recently found in conventional lipsticks and also for women who want to look great all the time," announced Chris Hart, executive director of the Alliance for Safe Practice. "Women are seeking safer and more practical solutions to daily makeup application. They want pleasing permanent cosmetics that remain true to color and makeup they do not have to reapply every day."
Aside from the avoidance of continual exposure to contaminants present in some cosmetics, many seek permanent makeup for convenience. Permanent makeup (also known as intradermal cosmetics and cosmetic tattooing) does not smear, smudge, flake or fade. It is especially beneficial for physically active people as well as those who have difficulty applying conventional makeup. Because permanent cosmetics are applied directly into the skin, they have a softer and more natural look than conventional makeup. In addition to mimicking conventional makeup for eyebrows, eyeliner, lipliner and full lip color, permanent cosmetics can also be used to hide scars and other skin imperfections.
"But not all permanent makeup is created equal," warns Hart. "Consumers should insist on ASP certified permanent makeup. ASP certified permanent formulations are tested for the presence of toxic metals and other contaminates. Additionally, every color must pass longevity studies. This means that ASP certified colors are safer and heal true to color. Permanent cosmetic professionals and consumers count on ASP certified colors because they can be assured the colors won't fade and change like some colorants used in permanent cosmetic applications."
The Alliance for Safe Practice (ASP), an independent group of permanent cosmetic practitioners, adopted stringent manufacturing and safety standards developed by permanent cosmetic leader, Premier Pigments, during the years subsequent to the company's decision to recall its True Color cosmetic line in 2003. "The reason ASP adopted more stringent safety testing protocols is for the very reasons lipstick manufacturers are challenged today," said Hart, ASP director.
ASP's push for market withdrawal of lead based lipsticks follows FDA's announcement to investigate claims of lead contamination in lipsticks and a recent study conducted by the Campaign for Safe Cosmetics. The CSC found that many of the top brands of lipstick sold in the US contain high levels of lead and applying lead based lipstick several times a day, every day can add up to significant lead exposure.
The Campaign for Safe Cosmetics said that one third of the 33 red lipsticks examined by an independent lab contained a level of lead exceeding 0.1 parts per million --- which is the FDA's limit for lead in candy. The FDA does not set a limit for lead in lipstick.
Joel Schwartz, a professor of environmental epidemiology at Harvard University, (who was not involved in the study) says the findings have the potential to increase risks of health hazards. Long-term exposure to lead can result in higher blood pressure, kidney damage and loss of mental function.
Wei Zheng, a Purdue University Science Professor, studies the toxic effects of heavy metals on the brain. Zheng recently emphasized the concerns for daily use cosmetics, especially in younger women. "Environmental exposures through lead-based paints on toys or particles in the air must first pass through several levels of tissue before being absorbed into the bloodstream. The fact that lipstick is applied directly to the mouth compounds the problem. With lipstick, you don't have those extra layers of safety," Zheng says. "Every time you lick your lips, you're basically eating lead."
Sandi Hammons, permanent makeup pioneer and ASP founder agrees: "Lips are mucosal tissue. Lips do not have the usual protective layer of sweat glands, sebaceous glands and body oils, which keep the skin smooth, kill pathogens, and regulate warmth. Lips are really vulnerable to absorption of heavy metals, including the more toxic metals, like lead and mercury." Hammons was an early pioneer of permanent cosmetics in 1987 and she has studied pigments literally from the ground up. She advocates stringent safety testing for all pigment manufacturers. "Manufacturers of cosmetics and colorants have a responsibility to test their products and to protect the public. There needs to be more stringent regulations and safety certification processes that protect consumers from products contaminated with lead, mercury and other toxic chemicals, irregardless if those manufacturers are creating colorants used in foods, paints, children's toys, cosmetics or tattoo inks. Now is the time for cosmetic manufacturers to "Get the Lead Out!"
###