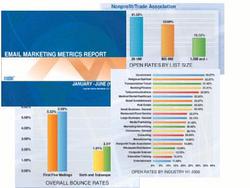 ...the benchmarks give us clear hints as to where we might be going wrong and what we can do to improve things.
Rockville, MD (PRWEB) October 24, 2007
A new MailerMailer.com email marketing study reveals emails containing 35 characters or less in their subject lines are 28% more likely to be opened than those with longer subject lines. This study reports statistics and benchmark data on email campaigns and allows email marketers to see how well they are performing relative to others in their industry.
This 28 page email metrics report which includes 60 charts reveals the most recent email marketing trends and statistics and can be downloaded for free at http://www.mailermailer.com/metrics/. The report can also be viewed online in Flash format.
"Subject lines and the sender's "From" email address are key," says MailerMailer CEO Raj Khera. "Though you may have the most engaging content within your newsletter, your subject line and trustworthy sender email address are the hooks that draw your readers in." Click rates were also found to be higher with shorter subject lines--3.77% compared to 2.11% on longer emails, representing a dramatic 78% increase in clicks.
Although there was a decline in open rates, click rates on average were found to be steady. This suggests that people are still reading and responding to email messages, but that they are often reading them without allowing the images to be displayed. This, in turn, disables the tracking of open rates, resulting in understated figures.
Industries that had the best performance for email marketing campaigns include banking/finance, transportation/travel, telecommunications, and religious/spiritual.
Among other findings showcased in the report are:

How soon subscribers opened messages
Who earned the best open and click rates
How soon subscribers opened messages
Best days of the week to send emails
How personalization affected results
Why you should include more links
MailerMailer analyzed nearly 270 million opt-in email newsletters and campaigns sent by a sample of over 3,000 MailerMailer customers for the first half of 2007 for this report. Email Marketing Reports' Mark Brownlow comments, "...the benchmarks give us clear hints as to where we might be going wrong and what we can do to improve things."
In addition, "Having access to historical industry averages of open, click, and bounce rates gives our customers an idea of what to expect from their own newsletters and campaigns," Khera says.
For additional information, or to comment or provide feedback, readers are encouraged to participate in the email marketing metrics discussion on MailerMailer's blog at: http://blog.mailermailer.com.
About MailerMailer.com
MailerMailer.com is a leading do-it-yourself email list management provider. Equipped with the latest email marketing technology, such as zip code radius targeting, image hosting and fetch HTML from website feature, MailerMailer allows easy creation of professional email newsletters and campaigns. MailerMailer is part of a series of sites run by Khera Communications, which includes discussion group management tool, DiscussThis, and small business resource site, MoreBusiness.com. A free trial of this email newsletter service is available at http://www.mailermailer.com.
###