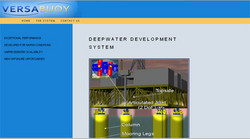 This could change the way the world uses deepwater
Urbana, IL (PRWEB) October 22, 2007 -
Versabuoy International announces a new deepwater platform system that could change the way the world uses deepwater. The key to the new platform system is the articulating spars. The length of the spar keeps heave to a minimum while the articulating joint absorbs wave energy keeping the platform level. This innovation brings deepwater land mass creation closer to fruition.
Model tests for the platform have proven that the Versabuoy System is 5 to 10 times more stable in harsh marine environments such as hurricanes, typhoons and rogue waves.
"This could change the way the world uses deepwater," says Versabuoy CEO Steve Khachaturian. Creating man made islands and portable land masses is something that has never before been possible. Versabuoy's new platform design offers the first proof that it is actually feasible. Now the company wants people to look forward to what is possible with 71% of the earth, much of it in deepwater.
Khachaturian adds, "It's possible to create not only a more stable platform for the oil and gas industry, but because we can connect our platforms together, you can create floating, moveable land masses like floating airports, renewable energy platforms for wind turbines or hydrogen production, private islands, floating casinos, floating prisons, oil refineries, offshore ports and even mobile offshore real estate! And because of fabrication and deployment strategies, we believe our platforms will cost roughly half that of the oil and gas platforms."
For more information about Versabuoy visit Vbuoy.com.
About Versabuoy International and Versabar, Inc.:
Versabuoy International and Versabar, Inc. were founded by Jon Khachaturian, owner of more than 35 worldwide patents and one of the world's most innovative engineers. The idea behind Versabuoy dates back 7 years, when a group of oil companies asked Jon Khachaturian to devise a way to keep a platform stable during a deepwater lift. The solution was to support the deck with four columns extending down from each corner of the platform. Khachaturian then devised an articulating joint at the top of each column. That allows the columns to be moved by waves while the platform remains relatively motionless. Versabar, Inc. has provided custom rigging systems for over 25 years and has made over 35-thousand lifts worldwide.
###