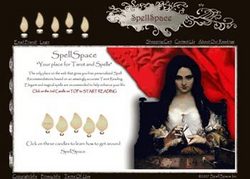 The site is easy to use and visually appealing. My reading was very accurate given what is going on in my life right now both personally and professionally
Lake Arrowhead, CA (PRWEB) October 21, 2007
SpellSpace.com is an artistic, realistic and high tech site, which recently announced its debut on the web, bringing a fresh take on an old art. A single word was searched more than 350,000 times on the Internet last month. It wasn't a typical word, one related to finding directions, doing research or even shopping. It revealed that many people are seeking personal advice and help, but not from a psychiatrist, physician or therapist. No, these searches consulted a more mystical source. The word was "Tarot".
Clearly many are intrigued by the ancient practice of tarot, but how many have actually tried it? Face it, going into some dark den on the other side of town and hearing the future from a stranger, seems risky, if not an outright scam. But getting a tarot reading on the Internet can feel like making a detour around the bad side of town and meeting privately with a reputable tarot reader.
There are more than 1,200 tarot sites in North America, providing a range of services from free but limited online tarot readings, to a live chat session with a psychic, to a full-fledge but often expensive online membership service. The top tarot sites claim to have more than 1.8 million unique visitors a month, but are typically loaded with pop-up ads and teaser services that result in expensive recurring fees. The smaller tarot sites, meanwhile, lurk in the darker corners of witchcraft and voodoo. So even on the web, it can still feel like stumbling onto a seedy, neon-lit alley full of dicey psychics and all-night card reader parlors.
And then there's SpellSpace, where the difficult skill of tarot has been duplicated and presented in a way that is friendly, inviting and real. And completely free. SpellSpace.com is authentic: the designer went as far as scanning her own old well-worn tarot cards into the website. SpellSpace.com is interactive: the developer used a mathematical randomization method that mimics the shuffling of real tarot cards, responding to every click. Unlike the majority of sites, which only present a few pre-packaged outcomes, the database-driven tarot readings at SpellSpace.com derive from the intuitions of an experienced psychic that result in tens of thousands of unique outcomes.
To the novice, this level of authenticity may not be that important, but for the aficionado it is everything. No matter what the level of interest, after a tarot reading many Spellspace.com guests describe a feeling of being both understood and well-advised. Read some of the reviews:

"I'm sometimes in awe at the deep insight and accuracy of your tarot readings!" E.L., AZ
"The site is easy to use and visually appealing. My reading was very accurate given what is going on in my life right now both personally and professionally". J.P., RI
"I went to your site and totally enjoyed it. Says I MUST leave my current job! How true." D.R., PA
"It didn't ask anything about who I was, and yet it was scary accurate about me, all the way down to my physical description." C.P., Digg.com
Just a few tarot readings convince almost everyone as well. And it doesn't just stop there. SpellSpace.com (http://spellspace.com) generates a list of unique spells related to the personalized tarot reading to help with love, career or even luck. Tarot readings can be saved, tracked, annotated, viewed for trends or shared with friends. There is also an online shopping cart, the SpellStore, where tarot cards, spells, and potions, can be purchased.
So believers or non-believers, tarot experts or novices or simply the curious can discover an artistic, interactive place to explore tarot and maybe even try a spell or two, without ever having to cross the tracks to the wrong side of town ... or of the Internet.
SEO Chat, http://seochat.com Overture Database - Yahoo search engine only
Open Directory, http://dmoz.org The largest, most comprehensive human-edited directory of the Web
Compete, http://compete.com Web traffic graphs and details
###