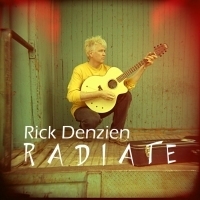 Rick's passion for music alone wins an award, as he even goes the extra mile to support educational music driven programs under his founded Golden Ratio Project Foundation
Ambler, PA (PRWEB) October 23, 2007
Philadelphia-based recording artist Rick Denzien has been nominated in two categories for the 2007 New Music Awards, including Crossover Artist of the Year and AC/Hot AC Breakthrough Artist of the Year. "I was thrilled to hear about Rick's nomination a few weeks ago," mentions Josh East, Senior Project Manager for MusiK1. "Rick's passion for music alone wins an award, as he even goes the extra mile to support educational music driven programs under his founded Golden Ratio Project Foundation," adds Mr. East. As an up and coming emerging record campaign solutions company, MusiK1 supports music independents and extends a warm welcome to the Golden Ratio Project Foundation to work in synch with MusiK1's Lyrical Knowledge program.
Rick will be traveling to Hollywood this November to witness his nominated single release entitled Tsai (pronounced Sigh), be read over the microphone in front of the stars, music industry professionals, fans and indie artists alike. His single Tsai, which broke into the TOP 10 on the New Music Weekly Hot AC Charts, has already generated well over 14,000 radio spins alone. Tsai was recorded at Slot-1 Studios out of Ambler, Pennsylvania that has successfully recorded well over 100 artists, from Country, Rock, Alternative and Metal, to New Age, Gospel, R&B and Jazz.
New Music Weekly magazine, sponsor of the New Music Awards, has announced 2007 nominees for the prestigious awards, including Fergie, Pink, Maroon Five, Elliott Yamin, Amy Winehouse, Daughtry and Bon Jovi among the pop nominees, while emerging indie artists as Rose Moore is nominated for Best New Artist. Categories also include Country, College, and Top 40. The New Music Awards ceremony takes place on November 10th, 2007 at the Avalon Theater in Hollywood, California.
The public has access to vote in support of their favorite New Music Awards nominees, in which such votes can be placed at http://www.newmusicawards.com/main.html by clicking on the Vote Now button. Please place your votes in support of independent artists.
PR Note: To gain access to art work and song snippets, please visit BillboardPublicityWire.com and conduct a search for Rick Denzien.
About Rick Denzien
Creating and recreating is what Rick Denzien's all about. As a singer-songwriter, musician, artist, producer, erstwhile philosopher, Rick Denzien has encompassed it all once again with his new record entitled RADIATE, due for release in the first quarter 2008. Feel free to visit Rick at RickDenzien.com.
About Slot One Entertainment
Based in Ambler, Penn., Slot One Entertainment, Inc. is a record label and publishing house that represents artists from Slot-1 Studios in musical genres including: Singer / Songwriter, rock, pop and alternative. Slot One's mission is to foster songwriting, both the skill and appreciation of the art of songwriting in the greater community. Slot One Entertainment, Inc. is a member: American Society of Composers Authors and Publishers (ASCAP), North East Regional Folk Alliance (NERFA). Feel free to visit Slot One Entertainment at Slot-1.com.
About Golden Ratio Project Foundation
The Golden Ratio Project Foundation has been established to support educational and charitable endeavors through musical performance for the purpose of fostering well-being within the individual, community, and world at large. Feel free to visit the Golden Ratio Project Foundation at GRPF.org.
About The 2007 New Music Weekly Awards
The event will be held November 10th, 2007 at the world famous Avalon Theater in Hollywood, California. This year's ceremony will honor radio stations, music and program directors, along with both major and independent record labels. New Music Awards will host a star studded red-carpet prior to show time as well as "live" performances during the show. New Music Weekly magazine will also host both a pre-show and after-show celebration party and press event.
About Billboard Publicity Wire
Billboard Publicity Wire is the major and indie entertainment press release service that combines the direct-to-media distribution approach of traditional PR wire services with the latest direct-to-consumer social media features and search engine optimized (SEO) internet distribution techniques. It's the most effective service available for generating media coverage and online visibility for your artists, music, films, games, events and web sites.
# # #