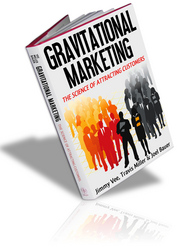 Business generating ideas come from the strangest places. You just have to keep your eyes open and apply what works.
Orlando, FL (PRWEB) October 22, 2007
"If your customers and profits have disappeared don't blame David Copperfield," say the authors of Gravitational Marketing: The Science Of Attracting Customers (John Wiley & Sons). More than likely it's your marketing or lack thereof that's making your customers and cash vanish into thin air.
Executive business coaches Jimmy Vee and Travis Miller reveal how business owners, entrepreneurs and sales professionals can use the same marketing techniques employed by David Copperfield and other entertainers to attract and keep the attention of their audiences and produce profit like magic.
Here, Jimmy Vee and Travis Miller expose a sampling of two of their seven David Copperfield-inspired business building and marketing secrets that produce magical results.
1. Create A Show Like Environment -- people love to be entertained but most shopping experiences are frustrating and forgettable. Copperfield knows that the show is everything. People are paying for more then the product or service---they are buying the experience. And the better the experience, the more they will pay.
2. Preparation Is Everything -- Copperfield is a natural on stage. He should be; he's been doing magic since he was 12. But he's constantly creating and performing new tricks. So how does he reinvent his whole show and still make it look seamless? Preparation. You don't think it's the first time he's done the trick when you see him perform it live on stage do you? Of course not. He could spend a year or more perfecting a single effect. But most people don't spend an hour a month preparing for their business success. The show is better and Copperfield is more successful not because of what he does on the stage but what he does off stage when the audience is out of sight.
"This is just a small sampling of what business owners and sales people can learn for master promoters like Copperfield," says Vee. "Business generating ideas come from the strangest places. You just have to keep your eyes open and apply what works."
There are five other profit producing ideas that Jimmy Vee and Travis Miller have identified from watching Copperfield in action and they would be happy to share them with your audience in an interview or anyone who wants to receive their special report, "The Magic Of Customer Attraction: 7 Powerful Marketing Secrets Used By Illusionist David Copperfield That Can Conjure Cash In A Flash And Make Your Debt Disappear" can download if for free at http://www.GravitationalMarketing.com/magic
Businesses around the country have seen dramatic increases in leads and sales due to implementing the success, marketing and time management strategies of executive business coaches Jimmy Vee and Travis Miller, the nation's leading experts on attracting customers in nontraditional ways.
For interviews contact Kristen Showe at 407-299-6128 or to get a copy of their free report, The Magic Of Customer Attraction go to http://www.GravitationalMarketing.com/magic
###