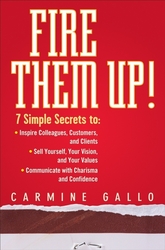 San Francisco, CA (PRWEB) October 23, 2007
Only 10% of American employees look forward to going to work. The U.S workforce is uninspired, discouraged and disillusioned. Human Resource professionals say motivating a disengaged workforce has become their number one pain point. But some companies are different. They are run by men and women who leave everyone inspired, engaged and enthusiastic.
In his new book, Fire Them Up! (Wiley; October 2007, $21.95; 978-0-470-16566-9;), Emmy award-winning journalist and communications coach, Carmine Gallo, examines the strategies of more than 25 extraordinary men and women who reveal the 7 Simple Secrets to inspire your colleagues, customers and clients.
Carmine Gallo is a former CNN business journalist who spoke with some of the most innovative business leaders of our time. Their advice on how they motivated their workers to contribute to their undisputed success is shared in this remarkable book.
Readers of Fire Them Up! will learn how:
The Ritz-Carlton President, Simon Cooper, motivates 35,000 employees to offer five-star customer service to every guest, every time.
Cranium founder and entrepreneur, Richard Tait, inspires customers, investors and employees to back a vision he sketched on the back of a napkin.
Google Vice President, Marissa Mayer, encourages teams of engineers to push the envelope on innovation.
Apple CEO, Steve Jobs, wows his employees, customers and investors through inspiring presentations.
Cold Stone Creamery CEO, Doug Ducey, persuaded his team to grow from a small chain of ice cream shops to one of the leading franchise brands in the country.
Teach for America founder, Wendy Kopp, transformed a Princeton school project into one of the largest recruiters of college seniors.
Al Gore turned flip charts and photographs into an Oscar-winning presentation called The Inconvenient Truth.
Griffin Hospital leaders transformed their organization into one of the best places to work in the country.
Disney Teacher of the Year, Ron Clark, motivated a class of underperforming students to outscore the "gifted" classes in one school year.
Readers who enjoy books on management, leadership, entrepreneurship, branding, sales, marketing and PR will find the insights actionable, practical and valuable.
The 7 Simple Secrets to INSPIRE:
Ignite Your Enthusiasm. Inspiring leaders ignite a spark in their hearts before lighting a fire in others.
Navigate the way. Inspiring leaders craft and delivering a specific, emotional and consistent vision.
Sell the Benefit. Inspiring leaders put their listeners first by clearing describing how their product, service or vision will improve their lives.
Paint the Picture. Inspiring leaders tell powerful stories.
Invite Participation. Inspiring leaders solicit input, listen for feedback and incorporate what they hear in the decision-making process.
Reinforce Optimism. Inspiring leaders use positive, optimistic language.
Encourage their Potential. Inspiring leaders lavish praise and encourage people to become their best selves.
Carmine Gallo is the communications coach for the world's most admired brands. His clients have included Intel, SanDisk, Chase, IBM, Nokia and many others. He is a former Emmy award-winning business anchor for CNN, CBS and Fox. His book, Fire Them Up!, is available wherever books are sold. Visit Gallo online at http://www.carminegallo.com
###