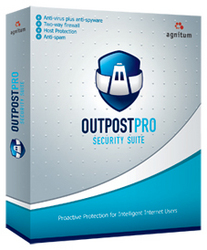 San Jose, California, US, and St. Petersburg, Russia (PRWEB) October 23, 2007
The security experts at Agnitum, the leading firewall provider, today announced the launch of the Outpost Pro 2008 product line, which opens with two Vista-compatible products: Outpost Firewall Pro (OFP) and Outpost Security Suite Pro 2008 (OSS). This new generation of Internet security solutions caters to individual users as well as small and medium businesses deploying the latest or older Microsoft operating systems.
Both the security suite and the personal firewall products are based on a new platform, utilizing a revamped, Vista-style graphical interface and lots of new and improved features. While providing even more security, Agnitum also managed to optimize performance, making both products very lightweight for users' systems.
Moreover, the new products are not just a set of features, but a set of everyday security services. All registered users receive the following benefits with round-the-clock security care:

Daily anti-virus updates;
Spyware definition updates;
Firewall rule distribution;
Application fingerprinting;
Host Protection updates;
Web site blacklist updates; and
Ad network updates.
Mikhail Penkovsky, global vice-president for Sales and Marketing, explained:
"Our key message with this new product line is not about the software itself, but also about everyday services delivered to all registered users. Nowadays it is not enough to update just virus or spyware signatures, you should take care of other key security areas as well. Agnitum does just that: besides virus and spyware definitions updates we deliver five additional services that make your protection more flexible and versatile. Our qualified engineers took care of seven areas to make all modules (firewall, antivirus, anti-spyware, host protection, and web control) of our Both the security suite work more efficiently. And this is for less than 14 cents a day for new users and about 8 cents a day for renewal licenses, not to mention the software itself."
Neither of the products requires lengthy or complete adjustment, however, they are designed to be customized according to user preference and security awareness. Novice users will benefit from a simple interface and comfortable default settings whereas advanced specialists can still create sophisticated configurations and make technical tweaks.
Outpost Firewall Pro 2008, which comprises a firewall and an anti-spyware plug-in, now offers the following innovations:
Full Vista 32- and 64-bit platform support
The totally redesigned Outpost architecture means that the product is now compatible with Windows 2000 onwards, including XP, Vista and all 64-bit Windows versions.
Internet Protocol version 6 (IPv6)
The new network connection protocol extensively used in Windows Vista, IPv6, is fully recognized and filtered. The protocol is the evolution of its predecessor, IPv4, and provides a number of scalability, automation and security improvements.
Together with virus and spyware signatures, the round-the-clock security services in Outpost now accumulate lists of harmful web sites (such as spy sites, phishing sources and others) and prevent the user from visiting them. Agnitum's database of malicious web sources is constantly growing, to the benefit of frequent surfers.
Rookie users can turn on the new Auto-Learn function to run Outpost in "learning mode" where alerts are disabled when the software first runs. Outpost quietly learns a user's program activity and monitored connections. After this learning period Outpost reverts to normal mode and prompts only in cases of new activity, which leads to much fewer alerts and less user interaction.
Fast User Switching support
The complete functionality of Fast User switching gives account holders who are sharing a PC more flexibility.
Remote Desktop connection
Outpost can be managed remotely over the Internet or LAN through Remote Desktop connectivity.
The new web control module filters more active objects on web pages, providing better surfing safety. The module safeguards users' systems against inappropriate personal data disclosure, drive-by downloads and offensive advertising.
Advanced anti-leak techniques (based on kernel mode hooks) have been introduced in the new version of Outpost.
Host Protection targets known rootkits
Apart from blocking zero-day attacks and other unauthorized activities, the Host Protection module provides advanced protection against known botnets and rootkits as well as inadvertent data disclosure. Agnitum's database of these malware samples has also been permanently supplemented.
Outpost's Log Viewer has been revamped to make it easier to import, process and maintain records of past activities. This new log functions much faster and is now available within the main interface of Outpost, rather than on a separate screen.
The new Outpost Security Suite builds on its firewall "colleague," preserving the legacy of battle-hardened pre-emptive protection, robust and flexible self-protection and exceptional usability. In addition, the suite adds a second -- reactive -- line of defense: a fast and lightweight anti-malware engine that helps keep viruses, Trojans, keyloggers and other malicious items away. A third line of defense covers antispam; the dedicated Bayesian-based plug-in for Microsoft Outlook and Outlook Express keeps the mailbox clean of junk email and worms. Applying the aforementioned firewall innovations, the Agnitum Suite has now learned to do the following:
Check email attachments in real time as they leave or arrive and move any suspicious file to the quarantine area for later review.
Set up a flexible schedule for regular malware scans and define custom scanning criteria such as checking critical system areas whenever malware definitions are updated.
To sum up, both products preserve their traditional benefits, address evolving web-borne threats and maintain technical flexibility for further improvements. In addition, specific measures reduce the load on resources. Both products will work smoothly on a 450 MHz or faster CPU (x-86/x-64/multi-core) with 256Mb RAM run under 32- and 64-bit Microsoft Windows Vista, XP, Server 2003, and 2000 (SP3 and above).
Outpost Firewall Pro 2008 and Outpost Security Suite 2008 are available for $ 39.95 and $ 49.95, respectively. Active license holders for Outpost Security Suite 2007 will be granted a free-of-charge upgrade to the latest version. The trial versions can be downloaded from http://www.agnitum.com/products/outpost/index.php and http://www.agnitum.com/products/security-suite/index.php.
About Agnitum:
Founded in 1999, Agnitum Ltd., http://www.agnitum.com, is committed to delivering and supporting high-quality, easy to use security software. The company's products are Outpost Firewall Pro, securing personal and family desktops; Outpost Network Security, ensuring reliable endpoint protection and performance for small business networks; and Outpost Security Suite -- an all-in-one Internet security solution.
###