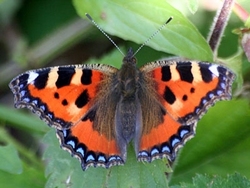 Their comprehensive biodiversity and energy saving programmes are impressive and, what's more, they are doing a great job in spreading the word by providing excellent educational material on sustainability for their guests.
Swansea, Wales, UK (PRWEB) October 23, 2007
Husband and wife David and Rachel Bowen and their 32 year old son Richard, diversified into eco-friendly cottage holidays after twenty years of dairy farming at their 120 acre hill farm near Pontardawe in South Wales.
"Looking after self catering tourists is easier than looking after cows - after all they were full board" said David Bowen as he reflected on a career change which now sees him cleaning cottages with eco-friendly cleaning products as opposed to farming the land intensively with a range of man made chemicals.
Swansea Valley Holiday Cottages are the first self catering holiday cottage company in Wales to offer carbon neutral cottage holidays - guests are given the opportunity to plant a Welsh Oak tree on arrival for which they receive a certificate printed on 100% recycled grass paper.
"What makes their business stand out is their innovative and refreshing approach to sustainability. Many of their projects are unique to this country - they are setting precedent in an industry that must constantly find new direction and new ideas to survive." said Nick Russill - IT Manager for Garn Cottages in Pembrokeshire.
Self taught from internet magazines, the Bowen family have developed their website into one of the top ranked self catering holiday cottage websites in the UK. It boasts an ever expanding biodiversity database of species found at the farm - a record that is constantly being updated by guests. Bird spotters, moth spotters, fungi fanatics and tree enthusiasts have all holidayed at Swansea Valley Holiday Cottages in the past year. A comprehensive Welsh Weather Guide includes real time climate data that is relayed to the site from a weather station on the farmhouse roof.
Martin Turner, Chairman of the Judges said, "Their comprehensive biodiversity and energy saving programmes are impressive and, what's more, they are doing a great job in spreading the word by providing excellent educational material on sustainability for their guests."
The materials referred to include a recently published comic natural history of the farm by Richard Bowen, entitled Small Dreams in a Sleepy Valley. This off-beat book accompanies a farm walk and explains how the countryside around the holiday cottages ended up looking like it does. The book is very popular with guests.
"It starts at the Big Bang and ends at the present day and is jammed full of interesting facts such as what the view out of the holiday cottage windows was like 300 million years ago, how daffodils and leeks arrived in Wales and how the climate has changed over the millennia. What's more, I had lots of laughs along the way - I have never read a book like it!" said birdwatching guest Nikki Shepherd.
The judges also drew attention to the commitment to green energy - the first phase of a project to re-install a historic watermill at the farm to provide the entire energy requirement of cottages has been completed.
It is ten years since the Welsh family began their self catering holiday business. Despite the rainy summer, 2007 was their best to date and the tenth in succession where they have experienced growth. Their attribute their success to their embracing the concept of sustainable tourism and their innovate approach to running a holiday cottage business.
"We have had to fight harder than most as we are situated in a hidden corner of Wales where tourism is under developed. We have had to be innovative to compete with those operating in the National Parks and more traditional tourist destinations who have a head start in terms of visitor numbers. We are genuinely one of those 'best kept secrets' that you so often read about in tourist literature." added Richard Bowen.
The Bowens are a Welsh speaking family whose family has lived on the same mountain, Mynydd Marchywel, near Pontardawe for over 200 years.
For additional information on Swansea Valley Holiday Cottages award winning eco-friendly self catering cottages, contact Richard Bowen or visit the Cottages in Wales website.
Contact:
Richard Bowen, Manager
Swansea Valley Holiday Cottages
Plas Farm
Cilybebyll
Pontardawe
Swansea
SA8 3JQ
Wales, UK.
http://www.welshholidaycottages.com
Four cottages are currently operated by the South Wales company. Bwthyn Y Saer (The Carpenters Cottage) opened as holiday accommodation in 1996. Hafod Y Wennol (Swallow's Summer Dwelling) farm holiday cottage opened in 2001. Both Y Stabl (The Stable) and Ty Cerbyd (The Coachhouse) Welsh countryside cottage opened in 2006.
###