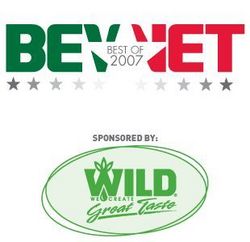 Only those products that are truly exceptional in all areas receive the 'BevNET Best Of' mark of distinction.
Cambridge, MA (PRWEB) October 22, 2007
Which new beverage products will be named the "Best of 2007"? Find out on January 4, 2008 when BevNET.com unveils the winners of its fifth annual "Best of BevNET" contest. The contest is open to entries until December 17, 2007. Full details and entry forms can be found at http://www.bevnet.com/bestof2007.
"This is BevNET's chance to reward 2007's outstanding new products for their quality, innovation, and design," said John Craven, founder and President of BevNET. "Only those products that are truly exceptional in all areas receive the 'BevNET Best Of' mark of distinction."
Awards will be given in twelve categories, including the coveted judge's choice "Overall Best New Product". Other product categories include Best Energy Drink, Best Enhanced Water, Best Functional Beverage, Best Carbonated, Best Non-Carbonated, Best Water and Best Children's Product.
New this year are several additional non-product categories, such as Best Packaging Innovation, Best Packaging Design, Best Marketing Campaign, and Beverage Executive of the Year. "We wanted to recognize that success in the beverage industry depends not just upon a delicious and innovative product, but also on all the 'behind the scenes' work that goes into bringing a product successfully to market," said Craven. "Those efforts deserve our kudos as well."
BevNET's "Best Of" awards are the only beverage industry awards committed to honoring products that excel in quality, innovation, and reception by the market, regardless of company size or recognition. Past winners include Arizona Pomegranate Green Tea Energy, Honest Tea Tangerine Green, vitaminwater perform, Fizzy Lizzy Passionfruit, and Steaz Green Tea Soda.
The Best of 2007 Awards are sponsored by WILD Flavors, Inc. WILD Flavors, Inc. provides concept ideation through product development to ensure their customers' beverages have the competitive edge to move quickly into the marketplace and obtain success. Their turn-key approach to each project, along with flavor/color/health and wellness systems and solutions, and total business support from all departments, allows WILD to partner with customers to provide the winning products they require and request. For more information about WILD, visit http://www.wildflavors.com.
To enter the "Best of 2007" awards, visit http://www.bevnet.com/bestof2007.
All entries, including product or design samples, must be received no later than December 17, 2007. Products may be entered in more than one category. The "Overall Best New Product" will be chosen by the judges from all entries received.
About BevNET.com:
BevNET.com, Inc. provides beverage professionals and consumers with the most comprehensive, up-to-date news and information in the beverage industry through several vehicles. Its online publication, BevNET.com, maintains an independent, unbiased database of reviews and content designed to offer extensive and timely coverage of new products, industry news, and events. Through the use of its BevBoard message forum, BevNET also offers another industry first: an ongoing, real-time forum where beverage industry professionals communicate.
BevNET is one of the most recognized and accepted authorities in the soft drink industry. Major media outlets, including USA Today and The New York Times, frequently look to BevNET for expert opinions on industry trends. BevNET has earned its stellar reputation by providing honest, independent, and comprehensive coverage of all newsworthy soft drink products and events.
Note: The winning beverages will be chosen based purely on their merits, irrespective to their relationship to BevNET or to the event sponsor.
For more information:
John Craven, Editor
BevNET.com, Inc.
617-715-9675
###