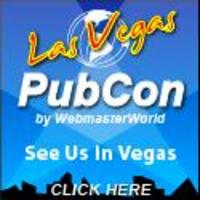 It'll be great to see Matt again at PubCon 2007.
Austin, Texas (PRWEB) October 22, 2007
PubCon, the Search Engine & Internet Marketing Conference and Expo, will feature a keynote speech by Matt Cutts, Software Engineer at Google Inc., at the Las Vegas event December 4 to 7, 2007.
"I'm looking forward to chatting with old friends in search as well as meeting new people at Pubcon," said Matt Cutts.
"Setting the standard in Search Engine outreach programs to webmasters, Matt Cutts is one of the nicest Google guys you could meet. Not only that, but he really does have broad and in-depth knowledge of the issues many webmasters face," said Brett Tabke, PubCon Chairman and WebmasterWorld CEO. "It'll be great to see Matt again at PubCon 2007."
This year, Las Vegas PubCon 2007 has moved into the larger South Hall at the Las Vegas Convention Center. Additionally, PubCon Las Vegas will feature its first ever Live Domain Auction by Moniker.
Yahoo! Publisher Network is a multi-year sponsor of WebmasterWorld's PubCon Search Engine & Internet Marketing conferences. Other premier platinum sponsors include Microsoft Live Search and Demand Media.
Registration & Information: http://www.pubcon.com
About PubCon
WebmasterWorld's PubCon events are for thought leaders in search engine and Internet marketing professionals to gather to share best practices in the design, development, promotion and marketing of their businesses and brands.
For more information about the conference, contact Brett Tabke at 512-231-8107 or brett at webmasterworld.com
In the U.K., contact Neil Marshall at +44-118-988-0288 or 512-231-8107 ext 106 or engine at webmasterworld.com
For more details about sponsorship and exhibition opportunities, contact Strategic Marketing Director Joseph Morin at 512-231-8107 ext 104 or joe at webmasterworld.com.
###