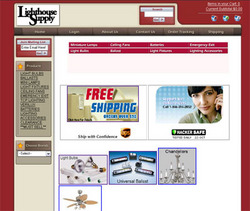 Lighting is a necessity and we want our customers to see us as a store that cares about their lighting needs
Bristol, VA (PRWEB) October 23, 2007
In a home or business, lighting can make or break the way visitors view their surroundings. Lighting can set the tone for moods and environment in ways other elements cannot. Choosing energy saving, discount light bulbs and unique light fixtures are just a couple of ways that Lighthouse Supply provides ideal lighting options for a home or business. Along with low prices, Lighthouse Supply makes choosing and purchasing lighting even easier by now offering free shipping on orders over $50.
"Lighting is a necessity and we want our customers to see us as a store that cares about their lighting needs," says Lighthouse Supply owner Kevin Dolan.
"We help our customers save money by offering the same brands as higher priced stores, but we offer discount light bulbs that are energy efficient, saving them more money in the long run. On top of that, our customers receive free shipping when they make a purchase of $50 or more, reinforcing our continued commitment to our customers and their lighting needs."
Lighthouse Supply's selection includes a variety of unique discount light fixtures, batteries, ballasts, energy saving light bulbs, emergency lighting, ceiling fans and more. A wide inventory of light bulbs and other lighting solutions allows customers the advantage of a variety of choices to ensure they are able to choose the appropriate discount light bulbs, light fixtures and lighting accessories. Combined with employees possessing years of lighting experience, customers are always met with personal, knowledgeable service.
"Our customers come back to us for our expertise and our friendly service, as well as our discount light fixtures. We strive to offer some of the lowest prices in the business so that the lighting needs of our customers can be easily achieved."
An easy to navigate website with clearly marked categories and convenient search options makes shopping at Lighthouse Supply even easier. Brands are easily viewed while a mailing list is available for visitors who want to stay informed on Lighthouse Supply's latest news.
For more information about Lighthouse Supply and the products they offer, please visit LighthouseSupply.com.
About Lighthouse Supply:
Backed by over 35 years of experience, Lighthouse Supply was founded in 1997 and offers light bulbs, light fixtures, ceiling fans, batteries and more in their online store. Owner Kevin Dolan brings 25 years of lighting experience to the business providing excellent customer service and prices that can't be beat to meet their customer's lighting needs.
###