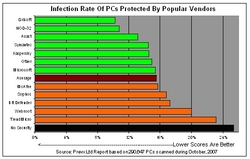 The volume of new malware we are processing each day is rising geometrically. Our automated research system has been designed to handle this and actually performs better with scale. We are now collecting almost 3 Gigabytes of new unique samples from our user base each day
Derby, England (PRWEB) October 22, 2007
Prevx, leaders in Automated Malware Research, today announced the results from checks for active spyware and malware on nearly 300,000 PCs during the last 30 days. The scans were performed by users downloading its free Prevx Computer Security Investigator (CSI). The results show that of 290,647 PCs scanned a staggering 45,251 (15.6 percent) had one or more active spyware or malware infection.
"Internet users must be more vigilant while top security firms find more effective solutions to provide adequate protection," said Jacques Erasmus, Director of Malware Research at Prevx.
The infection rates among computers that did not employ any type of security software were 60 percent higher than those using popular security products; the number of active infections on these systems was markedly higher. The infection rates are shown in Chart 1 for PCs running security products from popular brands.
CHART 1: Infection Rate of PCs Protected By Popular Vendors
Prevx, which recently discovered a powerful information-stealing Trojan that had bypassed all of the top security products and infected the US Department of Transportation as well as several major US corporations, says that this is a serious wake up call to Internet users and to the large security firms.
Prevx Computer Security Investigator is a fast, powerful and very easy to use tool for Windows and Vista users to check their PCs for active spyware and malware. It can be downloaded in seconds from http://www.prevx.com/freescan.asp and takes less than two minutes to run. Knowing that their PCs have active spyware or malware on them allows people to modify their usage while they seek a fix.
"Prevx CSI only looks for active spyware and malware; it searches for hard-core infections. It is not looking for tracking cookies and other mild adware, like some of the scanners we've seen," said Erasmus. "Prevx CSI finds malware like NTOS.EXE, Keyboard Loggers, Information Stealers and fake Antispyware, like Malware Burn - the things users really need to worry about."
Also in the results published today some 59.5 percent of businesses running the free Prevx CSI check discovered at least one infected PC.
Prevx's CEO, Mel Morris stated: "It is time that the major security firms owned up to the fact that their products are failing to protect consumers and businesses from a myriad of dangerous spyware and malware and the threats these pose to their customers and shareholders. It is also time that businesses began to speak out, even if anonymously about the thousands of breaches they are experiencing every day. The reality is that computer security is looking weaker by the day. There are a number of major security firms that appear to be focused on breadth rather than depth of protection."
Further research by Prevx shows a worsening trend in detection rates by four of the top five popular security products for the last three months, with Microsoft storming ahead day on day in the last two weeks. The results shown in Chart 2 are based on tests performed by Prevx Research Labs to measure the abilities of the popular security products to detect newly discovered spyware and malware samples.
CHART 2: Detection Rate of Spyware or Malware Infections Among Top Security Vendors
On a daily basis Prevx Research Labs are learning about some 5,000 to 10,000 newly discovered spyware and malware programs. Chart 2 is based on tests using between 1,000 to 2,500 samples of these newly discovered programs each day. All of this data has been made freely available to the vendors concerned.
"The volume of new malware we are processing each day is rising geometrically. Our automated research system has been designed to handle this and actually performs better with scale. We are now collecting almost 3 Gigabytes of new unique samples from our user base each day," said Erasmus. "Meanwhile, many of the large vendors who use more traditional methods are just not coping. As a result they are missing a huge number of infections. Literally thousands of new spyware and malware derivatives are just not being caught by their products every single day, and as the chart clearly shows the trend is worsening."
Prevx research shows that the declining detections for the major vendors are massively sensitive to the rise in new spyware and malware volumes. As the volume of new malware rises, their detection scores falter, indicating that many of the major security vendors are operating at or close to their malware research capacity.
Prevx has an open policy with regard to its research which is made available to competitors, analysts, journalists and major corporations concerned about worsening security.
On a final note, Mel Morris, CEO of Prevx suggests that consumers and businesses should check their systems frequently for active spyware and malware that has bypassed their security products with Prevx Computer Security Investigator (http://www.prevx.com/freescan.asp), which is free to consumers and for business use on up to 250 PCs.
About Prevx
Prevx Limited is a privately held business specializing in automated malware research, active spyware and malware detection and remediation and end-point protection technologies for consumers, businesses, Internet Service Providers and Security OEMs. More information about Prevx is available at http://www.prevx.com.
Media Contact
Arthur Germain
Principal, Communication Strategy Group for Prevx
631-239-6335
http://www.gocsg.com
###