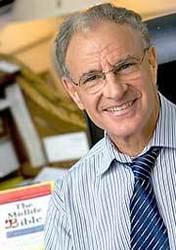 The Midlife Bible: A Woman's Survival Guide
Davis, CA (PRWEB) October 24, 2007
The first "His 'n Hers" books on menopause, released as a pair: "The Midlife Bible: A Woman's Survival Guide", and "MEN-opause: The Book for MEN" by Dr. Michael Goodman.
The most complete, compact, eminently up-to-date, and readable book for women, "The Midlife Bible" integrates hormone therapy, bioidenticals and alternatives, longevity and health enhancement, sexuality at midlife, bone density and much, much more. Choices, choices, choices. Paired with it is the first short (80 pages), humorous, right-on book for men about just what is going on with their "pausing" partner, what she can do, what he can do, what to do when nothing can be done, and when to get out of the way... Outrageous cartoons, peppered with pithy quotes throughout both books. Dr. Goodman's writing flows effortlessly from the page... An insightful and pleasurable read.
1. "The Midlife Bible- A Woman's Survival Guide"
In "The Washington Post", Stephanie Weiss writes: "Of [all the books I reviewed], "The Midlife Bible" is the cheapest, the shortest, and the best. I give it an 'A'."
"The Midlife Bible" helps women not only survive but thrive throughout their peri-menopausal and menopausal years. As benefits, they will:
1. Have more energy
2. Improve their memory
3. Sleep better
4. Enjoy sex again
5. Eliminate hot flashes
6. Look and feel better
After 35 years listening to women, Dr. Michael Goodman covers every topic relevant to a woman's concerns: PMS, bleeding problems, bone density, pelvic support issues, fatigue syndromes, irritable bowel, insomnia, psychological "blahs", and the dilemma of childlessness at midlife. It includes honest information about breast cancer and an open discussion about sexuality. Dr. Goodman explains and offers relief from the "peri-menopausal crazies" and, most importantly, simplifies the hormone replacement therapy decision with a full discussion of prescription hormones, bioidenticals and compounded preparations, and non-hormonal alternatives. Included id the latest on progesterone: Is it "Unsafe At Any Speed?" "The Midlife Bible" is an invaluable, accessible little gem--truly a complete "survival guide"
2. "MEN-opause: The Book for MEN"
If menopause is a problem for a man's "sweetie," it's a problem for him.
Finally! A first! A book on menopause for men. Author Dr. Goodman shows men how to support and survive their partner's menopause, improve sexual intimacy, and end up with a stronger relationship. Dr. Mike has been listening to women for 35 years, and now in his companion book to "The Midlife Bible", here in "Menopause: The Book For MEN", he:
1. Outlines the issues
2. Explains the physiology
3. Acknowledges the crazies
4. Identifies many things woman can do to help themselves
5. Shows the men how they can help and
6. Advises when it is best for the men to get out of the way
And in a Bonus Chapter: "Andropause - The Male Change Of Life": he explains how decline in testosterone can rob men of their energy and sexuality… how to get their testosterone and erections "up" to a more sustainable level.
Life does not stop at 50. "MENopause: The Book for MEN" will help guide couples through these temporarily troubled waters towards upcoming decades of health and enjoyment.
Appreciative Praise:
"Michael Goodman (Good Man), an amalgam of Marcus Welby, Monk, and the Horse Whisperer... understands the complex interaction of midlife symptoms. Goodman's analysis is clear, his treatment suggestions exacting. Each chapter ends with a case study about a real woman going through menopause. I learned more from this book's two pages on menstrual migraine than I have in discussions with half a dozen doctors over the years. There is straightforward information... Of [all the books I reviewed], it is the cheapest, shortest and the best. I give it an A."-- Stephanie Weiss, "The Washington Post"
"Dr. Goodman's honest, comprehensive look at the healthcare options available will save you time, energy, and money. All that, and it's actually an enjoyable read! He writes with a baby-boomer's sensibility that is honest, funny, and informative. You will wish he was your doctor and want to hang out with him at the same time."-- Nancy Alspaugh and Marilyn Kentz, Authors of "Fearless Women" and "Not your Mother's Midlife: A Ten-step Guide to Fearless Aging"
"Ladies, share this book with your husband, your friends, and especially your doctor. Dr. Michael Goodman has done a wonderful job in transforming hormone havoc..."-- Ann Louise Gittleman, Ph.D., Author of "Before the Change" and "The Fat Flush Plan"
"Dr. Goodman does an excellent job of combining Western and complementary medical approaches in order to help guide women through this sometimes difficult time of life. Avoiding any medical 'agenda', he explains what is known, and not known, and offers a healthy dose of good sense. This book is well written, easy to understand, and will be an excellent resource for women approaching, or in the midst of, midlife."-- William H. Parker, M.D., Author of "The Incontinence Solution" and "A Gynecologist's Second Opinion"
The Author: Michael P. Goodman, M.D., is a Certified Menopausal Practitioner and sex therapist, a medical communicator who practices patient-oriented health care and specializes in listening to women and couples. His compatible books, "The Midlife Bible: A Woman's Survival Guide", and "MEN-OPAUSE: The Book for MEN", are the culmination of his 35 years of experience in the practice of obstetrics, gynecology, and peri-menopausal medicine, incorporating his knowledge of both "Western Medicine" and alternative approaches.
More about Dr. Goodman, as well as many free insightful, interesting and educational downloads on his website, can be found on http://www.caringforwomyn.com. Books are available on his website and from Amazon and all booksellers.
###