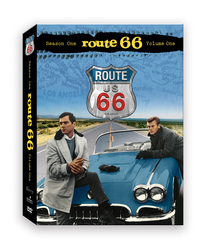 Gone in 60 Seconds: The Ride
Los Angeles, CA (PRWEB) October 23, 2007
"Route 66," which aired 1960-64, is one of the most brilliant dramas to emerge from the '60s, famous for its catchy Nelson Riddle theme song, intriguing characters, top-drawer writing and stellar guest star appearances. The original "road trip" drama, this classic television series was one of the most highly rated of the era, establishing the Corvette as an American icon.
Now you can own the first 15 episodes of this treasured television classic -- digitally remastered for the highest quality picture and audio possible-- in "Route 66: Season One, Volume One," coming to DVD for the first time ever on Oct. 23 from Roxbury Entertainment in association with Infinity Entertainment Group.
Yale graduate Tod Stiles (Martin Milner) is an intellectual who has led a privileged and sheltered life. Buz Murdock (George Maharis) is a tough young man, raised in "Hell's Kitchen," struggling his entire life just to survive.
When his wealthy father dies, Tod finds himself unexpectedly penniless with just one possession, a powder-blue Chevrolet Corvette. On a quest to find adventure -- and themselves -- Tod and Buz hit the open road in the ultimate American journey.
In search of excitement, the duo traverses the famed Route 66, which stretches from Chicago, Ill., to Santa Monica, Calif. Encountering people from all walks of life -- ranch hands, bodyguards, shrimp boat crewmen, prospectors and beautiful women -- the show featured a renowned list of guest stars, including Robert Redford, Robert Duvall, Walter Matthau, Martin Sheen, James Caan, Burt Reynolds, Boris Karloff, Peter Lorre, Lon Chaney Jr., Ron Howard, Lee Marvin, Suzanne Pleshette, Ed Asner, Julie Newmar, Cloris Leachman and Leslie Nielsen, to name a few.
Created by Academy Award-winning writer Stirling Silliphant ("In The Heat of The Night") and prolific producer Herbert Leonard ("Naked City," "Rin Tin Tin," "Circus Boy," "Popi") and shot entirely on location around the country, "Route 66" offered television viewers a unique anthology series with groundbreaking production values and meaningful dramatic themes.
Come along for the ride and get your kicks on Route 66. Special features include classic original TV commercials; filmographies of the stars and special guests; and a classic Corvette photo gallery and specs.
Roxbury Entertainment, headquartered in Santa Monica, Calif. (steps from the official "end" of Route 66), is a film and television production and distribution company owned and operated by producer Kirk Hallam (Finding "Rin Tin Tin," "The Death of Michael Smith," "Gone in 60 Seconds: The Ride"), currently in development on the major motion picture "Route 66," scheduled for completion in 2008.
Infinity Entertainment, headquartered in Los Angeles, Calif., is a multi-service home entertainment retail distributor, specializing in independent films, television programming, special-interest, documentaries, anime and music. Clients include MOJO on INHD, Falcon Picture Group, Bandai Entertainment, Retromedia Entertainment and Stone Cutter Productions. The company was launched in 2006 and is a division of Infinity Resources, Inc., a privately-held, multi-channel marketing and service enterprise with general offices based in suburban Chicago, Ill.
"Route 66"
Roxbury Entertainment/Infinity Entertainment Group
Genre: Classic TV/B&W
Not Rated
Format: DVD Only
Running Time: Approx. 13 Hours (15 Episodes/54 Minutes Each, Plus Special Features)
Suggested Retail Price: $29.98
Street Date: Oct. 23, 2007
###