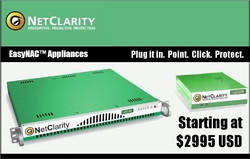 Bedford, MA, New York City, NY and Toronto, Canada (PRWEB) October 23, 2007
NetClarity, Inc., an award winning Vulnerability Management and Network Access Control company, today announced that it will be demonstrating the latest version of the company's award winning products with Avocent, its strategic Data Center and Network Management Solutions Partner, and with Datamex Technologies, Inc., its trusted Distributor covering all of Canada.
Both the Auditor and EasyNAC appliances are now integrated with the Avocent DSView® 3 software to enable quick and easy alerting, blocking and correcting of global networks, Data Center Security and IT related regulatory compliance issues.
Simultaneous two city launch - New York and Toronto
INTEROP - NY, NY, USA
NetClarity Auditor and EasyNAC v6.0 will be demonstrated at Avocent's Booth #637 on Wednesday, October 24, 2007 and Thursday, October 25, 2007 in the Javits Convention Center. For more information, visit http://www.avocent.com and http://www.interop.com.
Financial Services Technology Forum - TORONTO, CANADA
NetClarity Auditor and EasyNAC v6.0 will be demonstrated at the NetClarity, Inc. Booth #108/109 on Wednesday, October 24, 2007 and Thursday, October 25, 2007 at the The Design Exchange (formerly Toronto Stock Exchange Building). For more information, visit http://www.datamex.com and
http://e-financial.wowgao.com/.
"After a successful pilot with one of the largest Canadian and USA government contractors, it is clear that NetClarity's Auditor and EasyNAC platforms address the real issue of protecting critical networks from unmanageable malicious attackers. Uniquely, we found that no trust agents or specialized client software deployments are needed to enforce ones' network access security policies. The embracement and acceptance of NetClarity's Auditor and EasyNAC appliances is a clear endorsement of how innovative approaches to deal with the growing network security concern can be simplified, effective and affordable," said Allan Cowen, CEO, Datamex Technologies, Inc.
New Features, Benefits and Enhancements to Auditor and EasyNAC v6.0 Appliances include:

Enhanced Cisco Switch Integration
Manageable Through The Avocent Dsview® 3 Software
Protection In Pre And Post -Connect Scenarios
Fully CVE® Compatible under the MITRE CVE® international standard
Deployment Without Upgrades To Your Current Network Infrastructure
Filling In The Gaps Of Cisco, Juniper And Microsoft's NAC, UAC And NAP
Span Port And Non-Inline Deployment Options With No Impact On The LAN
Integrated NVD (National Vulnerability Database) Data And Reporting
Dynamic Detection of All Assets including DHCP and Static IP
Switch Independent End Point Access Control And Blocking
One Click Audit All Assets and Improved Inventory Alerts
Enhanced Endpoint Defender Including Windows Vista Support.
"Although most NAC vendors claim to offer some form of 'clientless' functionality, the reality is that most have a heavy, recently hacked client software, a 'dissolvable' activeX or java agent and cannot truly block a malicious insider, infected laptops, rogue wireless, weak or 'non-responsive' host from spreading malware. NetClarity, with a dozen patents published and pending on the subject matter has solved this most critical flaw which exists in all major NAC infrastructure solutions and we're happy to be put to the test in any independent review or customer bake-off," said Gary S. Miliefsky, Founder & CTO of NetClarity, Inc.
Miliefsky went on to say that "most Infrastructure NAC solutions are not ready for prime time, are loaded with flaws, require forklift upgrades to networking infrastructure including 802.1x switches and are not cost effective. Many of these solutions come with price tags in the six and seven figures when final proposals are delivered to potential customers by our competitors. Our EasyNAC appliances start at $2995 USD for branch offices and $19,995 USD for a full class C network of 256 network assets requiring protection.
NetClarity, Inc. Founder & CTO Gary S. Miliefsky is widely recognized as the inventor of clientless NAC (see: http://en.wikipedia.org/wiki/Gary_Miliefsky)
NetClarity has a dozen patents published and pending covering vulnerability management and network access control. NetClarity delivered our first clientless NAC solution in 2004 based on this patent portfolio. CRN named NetClarity one of the "Who's Who" of NAC.
About NetClarity, Inc.
NetClarity, according to RSA 2007, is one of the three most innovative network security companies in the world and is a leading provider of vulnerability management and network access control (NAC) products that provide preemptive, proactive network protection. The company's Auditor line of appliances has received widespread recognition, including two Best Buy Awards, 5 Star ratings, and Best of 2006 from SC Magazine and according to CRN is one of the Who's Who in NAC. Auditor enables customers to clearly see and better protect their network assets, identifying with pinpoint accuracy the root causes of data leakage, regulatory compliance gaps and network downtime using MITRE's CVE® standard. Based in Bedford, Massachusetts, NetClarity is privately held. For more information, visit http://www.netclarity.net/
About Avocent Corporation
Avocent delivers IT operations and infrastructure management solutions for enterprises worldwide, helping customers reduce the cost and simplify the management of complex IT environments via integrated, centralized in-band and out-of-band hardware and software. Through LANDesk, Avocent also is a leading provider of systems, security, and process management solutions. Additional information is available at: http://www.avocent.com.
About Datamex Technologies Inc.
Datamex is a leading distributor of Information Privacy, Integrity and Confidentiality solutions for CIOs, IT managers and information security professionals throughout Canada. For over 35 years Datamex has been instrumental in servicing the needs of organizations as they look to adopt and integrate new technologies that prove to be strategic to their business development. Drawing upon their trusted reputation, experience, and industry insights, Datamex is well positioned to address the growing requirement and organizational dependencies on technologies that address the Network Security concern and meeting regulatory compliancy demands. Recently appointed NetClarity Canadian Distribution partner, Datamex is headquartered in Toronto, Ontario with 5 additional branches located in Vancouver, Calgary, Ottawa, Montreal and New York. To learn more, visit us online at http://www.datamex.com
NetClarity, Auditor, EasyNAC and the NetClarity logo are trademarks of NetClarity, Inc. CVE is a registered trademark of MITRE Corporation. Avocent the Avocent logo, and DSView are registered trademarks of Avocent Corporation or its affiliates. All other trademarks are the property of their respective owners.
# # #