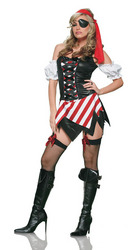 CERIWholesale's 650-plus costumes provides a great benefit to wholesale costume buyers
City of Industry, CA (PRWEB) October 24, 2007
CERIWholesale.com, an online distributor of Halloween and Adult costumes , announces the availability of 650 unique styles of costume for this year. The Web site features a variety of highly in demand costumes for Halloween, Christmas, Valentine's Day as well as other occasions. The 2007 popular costumes and costume accessories such as matching jewelry, hats and even costumes can be found online at CeriWholesale.com.
"CERIWholesale's 650-plus costumes provides a great benefit to wholesale costume buyers," says Joanne Han, product manager of CERIWholesale.com. "Our huge and various selection of Halloween and Adult costumes will provide our customers with what consumers are looking to buy for their special events." The popular costume trends of this year includes pirate of the Caribbean, baby dolls, sexy maid and police women and fairy tales. Superheroes and 70's costumes remain popular this year. According to CeriWholesale, movies releases from 2007 will have a huge influence on costumes trend for this year. Consumers are looking at movie characters to find costume ideas for themselves.
All products at CERIWHolesale.com come from carefully chosen manufacturers, meaning customers will find that the company's products feature the latest trend at the best prices.
More information about CERIWholesale.com and its 650-plus styles of wholesale costumes can be found online at http://www.ceriwholesale.com.
CERIWholesale.com is an online wholesale distributor of lady's costumes based in Los Angeles California. CERIWholesale.com establishes strong partnerships with carefully chosen manufacturers. With a direct connection to a variety of manufacturers, the company's products are offered at competitive wholesale prices. New styles of products arrive almost weekly. Convenience and competitive wholesale pricing are some of the best qualities mentioned by CERIWholesale.com customers.
###