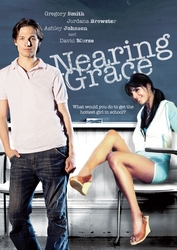 Harold & Kumar Go to White Castle
Los Angeles, Calif. (PRWEB) October 23, 2007
Discontent and languishing in 1970s New Jersey, young Henry Nearing is searching for something … or someone. When the hormone and marijuana haze clears, he finally realizes that winning her may mean losing himself in the critically acclaimed, coming-of-age film "Nearing Grace," on DVD Oct. 23 from First Independent Pictures and Vivendi Visual Entertainment.
From the producers of "Mean Creek," directed by Rick Rosenthal ("Bad Boys," "Halloween: Resurrection") and adapted by Jacob Aaron Estes ("Mean Creek") from a Scott Sommer novel, "Nearing Grace" seamlessly blends drama, humor and emotion in a multi-layered story. An outstanding ensemble cast includes Gregory Smith ("The Seeker: The Dark is Rising," WB's "Everwood"), Jordana Brewster ("The Fast and the Furious"), Ashley Johnson ("What Women Want"), David Morse ("Disturbia," "The Green Mile") and David Moscow (the upcoming "David & Layla," "Zoe," "Duncan, Jack & Jane").
In "Nearing Grace," young Henry Nearing (Smith) is addled by hormones and marijuana, languishing in the suburbs of 1970s New Jersey. His mom died six months earlier, his father Shep (Morse) has been on a bender ever since, his brother (Moscow) is a self-styled acid casualty; long-time best friend Merna (Johnson) suddenly wants more; and he has dropped out of school shortly before graduation.
Henry sees teenaged seductress Grace (Brewster) as the most alluring answer to his all-consuming discontent. Though the smoldering Grace is dating the school football star, she teases, entices and tempts Henry - all in sport - until his passing attraction turns into fascination, then obsession. Only when Grace finally succumbs to Henry - claiming his virginity in a succession of unrestrained, clandestine encounters - does he begin to face up to life and realize that winning her may mean losing himself.
In addition to a performance by two members of The Dandy Warhols in the film (as "The Band of Warhols" at the prom), the upbeat and stellar '70s-era soundtrack of "Nearing Grace" includes music by The Grateful Dead, The Clash, The Kinks, The Velvet Underground, The Ramones, Talking Heads, Bob Dylan, Marvin Gaye, Blue Oyster Cult, The Undertones, Tommy James and the Shondells, Nick Drake and John E. Nordstrom, among others.
Released theatrically (66 screens) in October 2006, "Nearing Grace" is presented on DVD in anamorphic widescreen 1.78:1 and Dolby Digital 5.1 Surround Sound. Special features include commentary by star Jordana Brewster and director Rick Rosenthal; wrap party footage; theatrical trailer; and TV spots.
In 2004, Gary Rubin formed First Independent Pictures, designed to release four to eight films a year, most to the theatrical marketplace and others to be given premiere treatment in the ancillary world. FIP distributes to the DVD universe through its label deal with the Vivendi/Universal Music Group. Its releases include the David Mamet-penned "Edmond," starring William H. Macy and Julia Stiles; Danny Leiner's ("Harold & Kumar Go to White Castle") "The Great New Wonderful," starring Maggie Gyllenhaal, Tony Shalhoub and Edie Falco; and the acclaimed 2005 Sundance selection New York "Doll." FIP also provides selected consulting and repping services. Visit http://www.firstindependentpictures.com.
Vivendi Visual Entertainment, a division of Universal Music Group Distribution (UMGD), has become a leading force in home entertainment and a favorite choice among independent producers of films and top independent studios. The company's goal is to provide the highest quality of marketing, sales and distribution services. VVE's select product line features family, comedy, foreign, Latin, urban, fitness and theatrical releases. Studio partners include Bauer Martinez Distribution, Bodywisdom Media, Codeblack, Film Mates, First Independent Pictures, Freestyle Home Entertainment, Melee Entertainment, New Light Entertainment, Palm Pictures, Rising Entertainment, RuffNation Films, Salient Media, Uwe Boll Productions, Voy Pictures and Xenon Pictures. VVE benefits from UMGD's award-winning team and customer-centric culture. UMGD's recent awards include American Business Awards, three consecutive NARM awards for Distribution Company of the Year and numerous retail awards. Visit http://www.vivendivisualentertainment.com.
"Nearing Grace"
First Independent Pictures/Vivendi Visual Entertainment
Genre: Drama
Rated: R
Format: DVD Only
Running Time: Approx.105 Minutes (Plus Special Features)
Suggested Retail Price: $26.99
Street Date: October 23, 2007
###