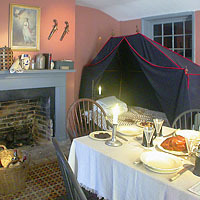 We organized the holiday activities according to the same historical topics covered in our book - America's Native Peoples, European Colonization, Religious and Secular Groups, Road to Independence, Our New Nation and Opening the West
Jackson, CA (PRWEB) October 23, 2007
What happened to the good, old-fashioned Christmas? It's alive and well at America's living history parks and museums. During the months of November and December, historical sites nationwide are reviving the traditional holiday spirit and good tidings that once were a major part of American life but now are often overshadowed by commerciality.
Here's an opportunity to have a very special holiday season. Enjoy candlelight tours in villages and forts dating back to the 1600s, 1700s or early 1800s. Talk with costumed interpreters about holiday celebrations that took place when our nation was young. Listen to old-time holiday music, and sing traditional Christmas carols. See colorful decorations made with all-natural materials. Watch open-hearth cooking as you sip hot mulled cider. That's just the beginning! The list of opportunities is long and inviting. What's more, these holiday festivities can be just as satisfying for singles as they are for friends and families. RVers, road trippers, seasonal travelers, homeschoolers, senior groups and many others will find enough choices to create a unique and memorable holiday season.
To help you plan, history-travel experts Suzanne and Craig Sheumaker have published a summary of over 170 holiday events and workshops offered at the premier historical sites appearing in their popular guidebook, 'America's Living History-The Early Years.' You can download their detailed list free by clicking on the newest In the Spotlight travel article featured on the website AmericasLivingHistory.com. Most of the holiday destinations are national and state historical parks, historic landmarks and privately operated living history museums. A few are historic cities.
"We organized the holiday activities according to the same historical topics covered in our book - America's Native Peoples, European Colonization, Religious and Secular Groups, Road to Independence, Our New Nation and Opening the West," Suzanne notes. "The list includes brief overviews of seasonal living history events, based on what the sites themselves say, plus phone numbers and URLs so that readers can learn more, make travel decisions and call for reservations where necessary," Craig adds.
Feel free to share all or part of 'In The Spotlight: Holiday Living History - 2007 Events' with anyone you wish. Just remember that it is copyrighted. So please credit the authors and include a link to the website AmericasLivingHistory.com
About the Authors
Suzanne and Craig Sheumaker are history-travel experts who have explored more than 125,000 miles of the U.S. by car and RV. They created the new guidebook 'America's Living History-The Early Years' to bring together in one place historical and tourist information about destinations that recall America's most formative years - the time before the 1840s westward movement. The colorful 224-page book is receiving high praise for its unique approach to both U.S. history and U.S. travel. With insightful text and 500 destination photographs, it enables readers to page through America's early years chronologically - from a land occupied by Native Peoples, to the formation of a new nation, to the initial stages of westward expansion. Along the way, readers discover a wealth of exciting places that can be enjoyed today. Regional maps and tourist information make travel planning easy for those who want to see these attractions in person.
'America's Living History-The Early Years' was released in May 2007 by Red Corral Publishing and is available wherever travel books are sold, including most online bookstores. Autographed books, gift-wrapped free upon request, are available direct from the authors via http://www.AmericasLivingHistory.com ISBN: 978-0-9792598-0-7
Contact:
Red Corral Publishing
Suzanne Sheumaker
209-295-5582
###