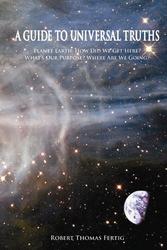 Faith and reason are not only compatible, they are essential for a fuller, richer life
Largo, FL (PRWEB) October 31, 2007
Reviewers Comments: New York Times best selling author Ellen Tanner Marsh: "What is the ultimate truth about life? For centuries, learned minds have struggled to seek the answer. Now, in this thought-provoking book, A Guide to Universal Truths, explores powerful evidence...that humans were created by an infinitely Superior and Perfect Being Who gave them free will so that they might evolve (spiritually). Fertig's book just might have touched on the ultimate answers to the purpose and meaning of life on earth. Boldly stated and beautifully written, A Guide to Universal Truths is clearly a roadmap to our higher purpose."
The author uses an apologetics approach to guide readers through the maze of new scientific facts, earlier false theories, and current worldviews that led us where we are today. He also offers multiple viewpoints on Science, History, Culture, Christianity and Islam from over seventy wise men. This work tries to integrate Science and Scripture, wherever possible, and attempts to answer many important questions that have troubled humanity for centuries.
Fertig doesn't shy away from controversy. Instead he encourages honest seekers of truth to "use their intelligence" to explore questions that still trouble them. "Faith and reason are not only compatible, they are essential for a fuller, richer life," the author concludes.
A new chapter on Islam & Christianity explores important theological, cultural, and historical differences, so that readers may better understand and appreciate where both sides are coming from. We are born into the faith and traditions our families gave us. Therefore, we must not begin a dialogue by attacking beliefs. "In reaching out to those in other religions, it is essential to provide an environment where spiritual, social, emotional, and intellectual needs are lovingly met," Fertig says. Muslims who live in free democratic countries, after considering these factual and historical differences, might think about what Christianity truly offers.
A Guide to Universal Truths (2nd Edition) will be available from http://www.Amazon.com
Contact: Robert Thomas Fertig
727.254.4351
###