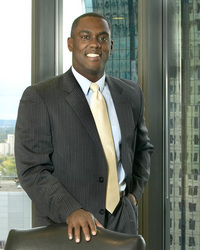 Lee has the grid iron-honed drive, talent and skill. We're thrilled to have him on our team. This is definitely important yardage for our practice.
Minneapolis, New York, Hudson, WI (PRWEB) October 23, 2007
Former MN Gophers Football, Track and Field Star joins Lommen Abdo Law Firm; Lee Hutton III brings sports representation to firm's growing entertainment practice plus considerable trial skills.
A former Golden Gopher letterman has joined the law firm of Lommen, Abdo, Cole, King & Stageberg, P.A., effective October 1, 2007. Lee Hutton III, who played for the Gophers between 1994 and 1999, brings sports representation of players from the NFL and area coaches to the firm's growing entertainment practice, plus considerable litigation skills in construction law, products liability, premises liability, advertising law and other areas. Hutton was previously at Johnson & Condon, P.A., in Edina, MN, where he was an Associate Attorney in the Liability and Litigation Group (2003-2007).
"Lommen Abdo is an ideal place for me to grow both my skills as a litigator and my practice in sports and entertainment law. There are not many law firms that would allow me to do both," Hutton says. "The firm's substantial relationships throughout the entertainment industry and the corporate community provide a great foundation for my sports clients to help them further their careers and their businesses. But I'm also excited to be joining a law firm with a history of successful litigation that dates back more than 70 years."
With entertainment law offices in New York and Minneapolis, the law firm boasts one of the largest entertainment practices in the Midwest. Lee will further expand its roster of music, film, game, literary and other intellectual property issues with his experience in player- and sports-related contracts, says Ken Abdo, Co-Chair of the entertainment division at the firm.
"We believe Lee will grow his already significant sports practice as part of Lommen Abdo's legal entertainment services," Abdo notes. "Lee has the grid iron-honed drive, talent and skill. We're thrilled to have him on our team. This is definitely important yardage for our practice."
"Gopher football fans will remember number 3 for his aggressive and competitive spirit on the field," says Margie Bodas, Attorney/V.P. Practice Management for Lommen Abdo. "His outgoing nature, strong communication skills, and community participation--including his affiliation with the Norwegian Norske Torske Clubben, perhaps the only membership held by an African-American in Minnesota --- make him a great asset for current and future clients of the firm. His substantial business trial experience and sports practice that serves players, coaches, educational organizations and local nightclub establishments make him a double threat."
Hutton's clients and colleagues expect the best and get it from him
Those same sentiments were reflected in remarks from former and current clients and longtime colleagues:
"Lee always has done a good job for us," says Jim Clark of Great Plains Supply Co., based in Oakdale, MN, who retained Hutton for about 30 cases of water intrusion where the company was charged with water-related damages as a subcontractor in the residential home building industry. "He's aggressive and smart and has done very well defending our company."
"Things really changed once we started working with Lee," explains Jim Jordan, a general contractor with the 12-year-old Prairieland Homes company in Mankato, MN. "We were working with other legal representation but felt like we were not gaining any traction. Lee really charged ahead and he really knows his stuff on construction litigation. He's aggressive, knowledgeable and a good communicator, plus he's enjoyable to work with."
"Lee's always shown leadership ability, from the time he was on student committees in college to his professional duties as an attorney," says Darrell Thompson, who broadcasts Gophers football games for WCCO Radio and who also is the Executive Director of Bolder Options, a youth program that helps young juvenile offenders. "I've know him for 10 years and he's very capable of getting things done, whether it's a reconciliation process or working with sports and agents. Lee's got great capacity for accomplishment and goes above and beyond what's required of him. He has always been someone you could trust to get things done."
About Lee Hutton III
A Texas native, Hutton came to the University of Minnesota on an athletic scholarship and had an outstanding academic and athletic career while at the U. He was recruited by Coach Wacker and played under Coach Glen Mason. He also met his future wife at the university. The couple has two children and lives in Brooklyn Park.
EDUCATION
William Mitchell College of Law (1999-2002) St. Paul, MN
Juris Doctor, 2002
· President-elect of the Black Student Lawyer Association (2000-2002)
· CALI Award for Work of the Lawyer (2002)
University of Minnesota (Twin Cities) (1994-1999) Minneapolis, MN
Bachelor of Arts, Journalism (Emphasis Advertising) (1998)
Bachelor of Arts, Speech Communications (1999)
· NCAA Division I Athletics
· University of Minnesota Community Involvement Award (1999)
· University of Minnesota Student Athlete Advisory Representative serving on Big Ten Counsel headed by Commissioner James E. Delany
· President, Student Athlete Advisory Committee (1996-1999)
· Vice-President, Student Athlete Advisory Committee (1995-1996)
PROFESSIONAL AFFILIATIONS
· Minnesota State District Court
· Federal District Court, District of Minnesota
· Minnesota State Bar Association
· Minnesota Defense Lawyers Association
· Hennepin County Bar Association
· NFLPA Certified Contract Advisor
· WNBA Certified Contract Advisor
· ABA Sports and Entertainment Association
· Minnesota Association of Black Lawyers
COMMNUITY/LEADERSHIP ROLES
· Board of Directors - YMCA (North Branch) - (2004-Present)
Board Chair, Finance Chair
· Board of Directors - Minneapolis Urban League Committee - (2003-Present)
Board Chair, Human Resources Group
· Board of Directors - Skills for Tomorrow High School - (2005-Present)
· Adjunct Professor - St. Thomas School of Law (2003-2007)
· Board Member - North Memorial Nursing Review Board - (2002-2007)
· Volunteer Hurdles High School Girls/Boys Coach - (2004-Present)
For more information - or to interview Lee Hutton III - please contact Martin Keller, Media Savant Communications Co., 612-729-8585, mkeller @ mediasavantcom.com.
###