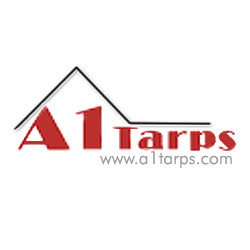 Los Angeles, CA (PRWEB) October 24, 2007
During the aftermath of Hurricane Katrina blue tarps were vividly displayed across the landscapes of damaged homes in Louisiana revealing extensive destruction. Many people experienced that hurricanes can strike anytime with little or even no warning for preparation leaving several homeowners with damaged roofs and little time to repair the problem. More than 250,000 blue tarps used throughout the hurricane-impacted region of New Orleans were supplied by A1Tarps creating wide company recognition and expansion.
A1 Tarps plays an integral role in disaster preparedness by providing large amounts of tarps worldwide due to the many accessible quantities on hand. The company has supplied many polyethylene coverings to organizations in response to natural disasters such as Hurricane Charley, Frances, Ivan, Jeanne and Tropical Storm Bonnie.
In 2005, A1 Tarps immediately shipped over fifty containers of weather resistant tarps to the blue roof project managed by the U.S. Army Corps of Engineers (USACE) for the Federal Emergency Management Agency FEMA The tarps were used as temporary roof covers and shelters in response to Hurricane Katrina as homeowners waited to be re-roofed.
In addition to providing natural disaster support, A1 Tarps has increased business by expanding company products and offering superior commercial and residential quality tarps at competitive prices. The company supplies and manufactures a wide variety of tarps and canopies ranging in a multitude of colors and sizes, covering everything from dump trucks and lumber to portable buildings, RV's and much more.
With more consumers A1 Tarps is the largest tarp manufacturer and supplier in the US and will continue to use its services to assist many organizations in additional natural disaster relief efforts.
Company Information:
A1 Tarps is the sister company of PTM Inc. products and is a family owned and operated business with over 25 years experience in the manufacturing of tarps, tents, portable garages and canopies. A1 Tarps offers a wide variety of durable rust resistant construction tarps, the world's largest selection of heavy-duty poly tarps and two color types of fire retardant tarps certified under the California State Fire Marshal with the Fire Marshal tag permanently attached to the side. Every tarp available offers rust resistant grommets, rope-enforced corners is water and mildew proof.
A1Tarps takes pride in its excellent service and immediate shipping capabilities. For more information on products and purchases visit http://www.a1tarps.com
###