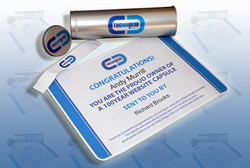 It's a nice way of creating a tangible gift out of something intangible.
(PRWEB) October 24, 2007
Windsor, UK Windsor based entrepreneur Richard Brooks has hit upon an unusual idea that could prove to be the most thoughtful Christmas gift you'll ever give: a virtual time capsule that allows users to gather photos, videos, music, and words. Users have a year to fill it and once complete it will be kept safe for at least 100 years for future posterity.
The online time capsule is proving to be an unusual and unique gift. Essentially it consists of a dedicated webspace to which pictures, video and audio clips, thoughts and writings can be uploaded over a 365 day period. The capsule's contents are safe for 100 years and can either be viewed by anyone, password protected (to be shared with family and friends) or 'buried' until a pre-determined date in the future.
Richard was inspired to create the 100 Year Website after receiving a photo album as a gift from his mother: "I realised I had a limited record of the past and started thinking of ways to capture memories online for future generations to enjoy. The time capsule idea just developed from there," he explains.
Although 'virtual' in concept, the 100 year website can be ordered with a metal capsule and verification certificate - a popular option as a gift. "About 90% of our customers to date have ordered the metal capsule" says Richard, "It's a nice way of creating a tangible gift out of something intangible." An ideal and unusual Christmas gift, each capsule is only activated once the first entry is made, which means you can purchase the gift in advance without worrying about the 365 day period counting down.
The finished capsule becomes an online snapshot for people to enjoy for the next 100 years. "Just imagine your relatives in 30, 40 or even 100 years time looking back at what their great, great grandparents had to say in the year 2007?" says Richard, "One customer is expecting their first child so they are currently adding things like the baby's heartbeat and scan images to their capsule. To follow will be baby photos, interviews with family members and so on capturing memories of the baby's first few months. The capsule will then be 'buried' until the child's 18th birthday." Time capsules can be linked to each other so it's possible to build a series of capsules spanning a number of years.
Computer novices needn't fear - a simple to use Wizard takes them through the whole process of uploading information step by step. To find out more, visit : http://www.the100yearwebsite.com.
###