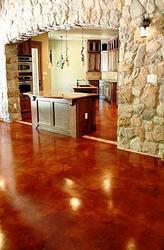 Yucaipa, CA (PRWEB) October 26, 2007
As one of the hottest topics being researched on The Concrete Network website, it's no wonder that homeowners are turning to stained concrete to update their home's interior concrete floors for the upcoming holiday season. These trendy floors have long been found in retail stores, restaurants, and offices, but now, they can be found in homes, as well.
The great news it is that there are unlimited design options, color possibilities, and application techniques to choose from that are sure to meet every homeowner's needs. The Concrete Network, the largest and most comprehensive source for concrete information anywhere in the world, provides a wealth of information for enhancing your floors with concrete staining on its website.
Concrete staining imparts a luxurious richness that can't be achieved by any other coloring medium while leaving behind a permanent, flake-proof color. The stain can even be applied to most existing concrete, making it an ideal solution for revitalizing lackluster surfaces. Depending on the color and application techniques used, the results can mimic everything from polished marble to tanned leather to natural stone or even stained wood.
For a multitude of design ideas and coloring options check out the site's online interior concrete floors photo gallery filled with examples for enhancing your interior floors from ordinary to extraordinary using this decorative technique.
Established in 1999, The Concrete Network's purpose is to educate consumers, builders, and contractors on popular decorative techniques and applications. These include stamped concrete, stained concrete floors, concrete countertops, polished concrete, and much more. In July 2007 The Concrete Network Website had over 1.3 million visitors researching decorative concrete.
The site excels at connecting buyers with local contractors in their area through its Find-A-Contractor service. The service provides visitors with a list of decorative concrete contractors throughout the U.S. and Canada, and is fully searchable by 23 types of decorative concrete work and 202 regional areas throughout North America.
Article photos courtesy of Stained Concrete by Peyton & Associates.
###