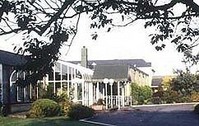 (PRWEB) October 24, 2007
The entire contents of Blarney Park Hotel and Leisure Centre, Cork's renowned hotel establishment run by the Blarney Group Hotels - will go under the hammer in a grand auction on 21st November 2007.
Hospitality industry specialists Pro Auction of Bath in conjunction with Lisney Dublin will manage the auction with a viewing in the hotel on 20th November.
The event offers the hospitality industry an unrivaled opportunity to purchase the contents of this first class hotel at a fraction of new replacement cost. Items for sale include content from the bedrooms, banqueting facilities and modern kitchens; bar and restaurant furniture; soft furnishings and fittings; engineering equipment; reception and back of house items; conferencing facilities; plant and machinery, elevators, boilers etc.
In all there will be over 1000 lots in the sale. Items of particular note include

the entire contents of the awarded 'Dining Pub of the Year'. Paddy Cole bar
entire furnishing of 100 bedrooms and suites
the furnishings and contents of the Clancarty Restaurant
the furnishings and equipment from the well equipment conference rooms in the dedicated business centre
the entire contents of award winning white flag Leisure Centre with extensive modern gymnasium
The contents of the hotel's lobbies, offices and modern fully equipped kitchens, together with furniture, soft furnishings, boilers, gymnasium, laundry equipment, and housekeeping and back of house areas are also included.
Mark Flynn of Pro Auction said: "The Blarney Park is modern in style and offers buyers an excellent opportunity to acquire quality furnishings, particularly for a smaller hotel chain that aspires to the Blarneys' high standards; The property has been constantly upgraded over its lifetime to maintain its market leading standing. Potential buyers can now recreate the ambience and good taste of this fine establishment either by buying the entire contents of the bedrooms, or a portion on a room by room basis. The sale will attract many and will be of particular interest to participants in the hospitality and catering business as literally everything will be sold. Early indications are of a very lively buying interest."
The auction takes place at Blarney Park Hotel and Leisure Centre, County Cork. Ireland at 11am on 21 November via two rostrums. The viewing takes place from 8.30am-4.30pm on 19 and 20 November. Catalogues are available by calling +44 1761 414000 or +353 (0) 1 638 2700.
###