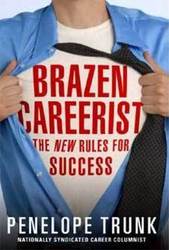 Ninth House understands what is needed to inspire young workers and develop them into successful leaders - and they offer solutions to help companies do just that.
San Francisco, Calif. (PRWEB) October 24, 2007
Ninth House, Inc., the leadership solutions company, and nationally syndicated career columnist and Yahoo! Finance career expert, Penelope Trunk, have teamed up to offer the industry advice about employee recruitment and retention as it relates to an up-and-coming Generation Y.
In the recently released The Brazen Careerist: The New Rules for Success, Ninth House CEO, Jeff Snipes, and the book's author, Penelope Trunk, offer a wealth of information that today's corporations and their new leaders can utilize to cultivate success. Ninth House is known for bringing high-quality, immersive, interactive leadership solutions to Fortune 500 companies. The company's offerings touch on the very topics of retaining and engaging young talent. Penelope Trunk is a nationally syndicated career columnist and an expert about the issues and concerns of a new generation of workers under the age of 35.
"Ninth House gets it!" notes Trunk. "Ninth House understands what is needed to inspire young workers and develop them into successful leaders - and they offer solutions to help companies do just that."
"The quality and delivery of Ninth House solutions make learning more like watching a movie rather than viewing a PowerPoint," notes Snipes. "Ninth House and its clients have found that interactive, story-based video is the ideal medium for training the newest generation of workers who crave constant interaction and the ability to be immersed in the content in order to retain what they've learned and bring new skills back to the actual work environment."
Because the Gen Y generation is good at working in teams, it's important for them to look for work in an environment that values teamwork over the old-school hierarchal based organization. Snipes notes in Trunk's book that there are three key questions Gen Y should ask of a potential employer:

What sort of talent development does the company provide?
Is diversity important to the company?
Is there a reward system in place for teams?
Other points that Snipes/Trunk address in the book include:
New methodologies for companies training Generation Y employees
Learning on the job through employee training programs
Three types of training employees should ask for at work
Effectively managing organizational shifts from hierarchical to competency based teams
Generation Y is generally referred to as the 76 million Americans born after 1982 who are just entering the work force in mass. Generation Y has also been referred to as "Generation Why?" noting the age group's quest for answers and, sometimes, the questioning of authority. A recent research report from Bersin & Associates on talent management* notes that this new group of workers are confident, impatient, socially conscious, family-centric, and technology-savvy, and require work related training to "…give context and meaning, make it fun, search and explore, entertain me."
The exiting of the huge baby boomer generation leaves a significant hole in the workforce and in companies' leadership pipelines - a gap which Gen Y employees will fill. According to a the Bersin report, this phenomena has created the #1 talent problem today, leaving many companies grappling with how to effectively train and develop a new generation of leaders. (*High-Impact Talent Management, Bersin & Associates, 2007).
About Penelope Trunk:
Penelope Trunk has been a software executive, entrepreneur, and professional beach volleyball player. As an expert career adviser, she writes two popular business columns: the syndicated column "Brazen Careerist," which is featured on Yahoo! Finance, and her column, "The Climb," which runs in the Boston Globe. Her Brazen Careerist blog (http://blog.penelopetrunk.com) is a career advice resource for generation Y and gets 400,000 page views a month. Trunk lives in Madison, Wisconsin.
About Ninth House:
Ninth House, Inc. provides leadership development solutions that integrate content from leading business experts with self-paced online courses, practical simulations and in-person engagements to more effectively develop leaders at all levels of an organization. The Ninth House solutions address the most relevant issues an organization faces-from leadership and innovation, to building community in the workplace, to managing change. Ninth House's leadership development solutions are easily scalable and able to be customized and deployed based on business needs, providing rapid and measurable behavioral change and increased productivity. Ninth House customers include nearly 200 Global 2000 and government organizations globally such as Amazon.com, British Telecommunications, Hyperion Software, SSM Health Care, United States Navy, and United States Department of Justice. Ninth House is headquartered in San Francisco, CA. For more information, please visit the Ninth House website at: http://www.ninthhouse.com, or call: 415-277-8200.
Ninth House® is a registered trademark of Ninth House, Inc.
*High-Impact Talent Management: State of the Market and Executive Overview® 2007, Bersin & Associates / Josh Bersin, May 2007.
###