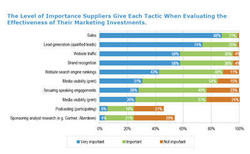 One interesting survey result shows that most suppliers regardless of size don't rely on any single marketing and PR tactic for more than 25 percent of their sales leads
Capitola, Calif. (PRWEB) October 24, 2007
A majority of HR and employee benefits suppliers will increase their search engine optimization (SEO) budgets in 2008, according to a new vendor survey report from HRmarketer.com titled Trends in HR Marketing: Where HR Suppliers Spent their Marketing and PR Dollars in 2007 and What's Ahead in 2008.
Blogging, podcasting and other social networking tactics will also see greater use in the new year, said the marketing services firm. The report, released today, is the seventh in a series of research reports that HRmarketer.com has issued since early 2006. It is available free of charge by visiting http://www.hrmarketer.com/home/whitepaper_main2.htm.
The latest report examines the marketing and PR activities most important to HR suppliers and their budgeting plans in 2008, as well as the activities that generate the most sales leads. Other topics include how HR suppliers measure the success of their marketing and PR efforts, what news outlets they rely on to stay knowledgeable about the HR marketplace, and vendors' optimism about the market's health.
Key trends identified in the report:

The projected growth of direct e-mail marketing and the devaluation of print advertising;
Increased use of blogging, podcasting and social networking among smaller vendors as a means of lead generation;
A reluctance among larger vendors to embrace online marketing (Web 2.0) trends, although that will continue to change in 2008.
"One interesting survey result shows that most suppliers regardless of size don't rely on any single marketing and PR tactic for more than 25 percent of their sales leads," notes Kevin Grossman, chief operating officer for HRmarketer.com. "This shows that while budgets may shift, HR vendors are generally expanding their range of activities across the board."
Report data is based on responses from a diverse group of HR and employee benefits suppliers collected during July, August and September of 2007. Since 2001, hundreds of HR suppliers have used HRmarketer.com and the HRmarketer Services Group to generate publicity, website traffic, sales leads and improved SEO.
About HRmarketer.com:
Our services help HR suppliers generate publicity, website traffic, sales leads and improved search engine rankings. Services include:
HRmarketer.com Membership: Combines database of marketing and public relations (PR) opportunities with press release distribution, campaign management, social networking services.
HRmarketer Services: Leveraging our HRmarketer.com service and HR marketplace expertise, we offer HR suppliers a full range of Internet marketing, marketing PR, search engine marketing and SEO services.
This press release was distributed through eMediawire by Human Resources Marketer (HR Marketer: http://www.HRmarketer.com) on behalf of the company listed above.
###