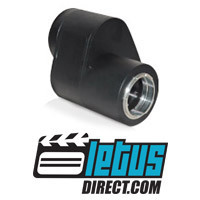 Wichita, KS (PRWEB) October 25, 2007
LetusDirect announced today the launch of a new 35mm video adapter featuring innovative prism technology.
The Letus35 Extreme is a 35mm lens adapter which allows users to attach a standard 35mm SLR lens to their video camera. The Letus is a unique product that features new prism technology with proprietary Image Orientation Correction technology (IOC). Unlike other 35mm adapters, this adapter "flips" the image upright so that the camera can record as it normally would.
Components include the highest optical grade achromatic lens (custom-made for this specific adapter), a custom condenser lens and an improved ground glass element. These components work together to provide beautiful film-look bokeh, absolutely no vignetting, accurate color reproduction and crisp edge-to-edge sharpness with only a 1/2 stop of light loss.
The Letus35 Extreme is milled from solid aluminum with an anodized black finish. A built-in on/off LED switch with indicator operates the virtually silent adapter ground glass vibration mechanism. Power is provided by two AA batteries that are fully enclosed in the adapter under a magnetic cover.
Several thread sizes are available including 72mm threads for Canon cameras such as the XH-A1, and 82mm threads for Panasonic cameras such as the HVX200. A 77mm thread size is forthcoming for the new Sony XDCAM EX.
The Letus35 Extreme can be configured with several 35mm SLR lens mounts. Current mounts include the Canon FD, Nikon AI, Canon EF (EOS) and Pentax K-Mount. Other custom lens mounts are being developed for a variety of lenses.
Complete product specifications and a Letus comparison chart are available at http://www.letusdirect.com
About LetusDirect.com:
LetusDirect.com was started as an online source for current and future Letus35 users. This site encompasses research, purchasing, and discussion of the entire line of 35mm lens adapters Letus has developed for the Indie Film making industry.
###