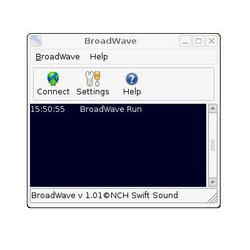 We are very please to announce this release of BroadWave for Linux, because we see it as a start of something big for our company in the long term
Canberra, Australia (PRWEB) October 25, 2007
NCH Swift Sound Software, specialists in audio, video and business software applications, announce the release of their latest application for the Linux OS, BroadWave Streaming Audio Server.
"We are very please to announce this release of BroadWave for Linux, because we see it as a start of something big for our company in the long term," said Stephanie Lee, marketing manager for the Australian company. "BroadWave for Windows has steadily gown in popularity since its release and we feel that the Linux version will actually surpass it, in terms of popularity, fairly quickly."
BroadWave allows users to stream live or pre-recorded audio over the Internet with a minimum of fuss. It handles the audio stream compression, player format negotiation, bandwidth adjustment and serving over the Internet. Listeners do not need to install any special software to listen to a BroadWave webcast. BroadWave streams will play directly from the default web browser on any modern Windows, Mac or Linux computer. If the bandwidth is available Broadwave can handle up to 500 simultaneous connections and it automatically downsamples audio for lower bitrate listens on slow dial-up connections.
"The work that our programming team put into the development and porting of Express Scribe for Linux created a great base for porting the rest of our audio applications to the Linux OS, meaning that the BroadWave project, from start to finish, took around a quarter of the time," said Stephanie. "They also concurrently started porting other applications in our telephony range and expect the VRS multi channel recorder to be the next release followed closely by IVM Interactive Voice Response system in the new year."
NCH Swift Sound Software is a leader in business, audio and video technology. Since 1993 the software development team has released more than 40 Windows, Mac, Linux, Palm and Pocket PC applications which are now leaders in their classes and have been awarded for software excellence. Visit us at http://www.nchsoftware.com or http://www.nch.com.au.
###