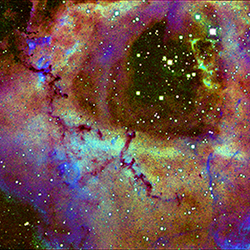 This amazing service was only made possible through the incredible vision and genius of several manufacturers and software companies.
Fountain Valley, Calif. (PRWEB) October 24, 2007
Global-Rent-a-scope (GRAS), a major provider of astronomical observing resources for members of the RAS Observatory of New Mexico and the general public, announced implementation of global access to a series of astronomical installations in strategic time zones. The location of these participating installations offer users and observers access to highly sophisticated remote astronomical imaging platforms that possess amazing pointing and tracking accuracy. Outfitted with chilled CCD cameras and special imaging and scientific filters, subscribers to this membership facility routinely conduct research and capture unbelievably detailed images of a variety of deep space objects. No previous technical experience is required to operate these systems, although some basic knowledge about possible targets of interest may be helpful. Real live support is generally available 24/7.
Arnie Rosner, the creator of GRAS commented, "This amazing service was only made possible through the incredible vision and genius of several manufacturers and software companies."
Arnie added, "Our location In New Mexico, for instance, uses the remarkable Takahashi telescopes. These amazing optical systems are mounted on remotely operated state-of-the-art robotic Paramount telescope mounts. These high-quality telescope mounts are produced by Software Bisque of Colorado, http://www.bisque.com/. Each system is equipped with sensitive electronic detectors called CCD cameras. Some of these devices are manufactured by SBIG (Santa Barbara Instrument Group) http://www.sbig.com/. Other CCD cameras currently being evaluated are produced by QSI manufacturing (http://www.qsimaging.com) ."
Software is provided by Software Bisque, Cyanogen (http://www.cyanogen.com), DC-3 Dreams (http://www.dc3.com) plus our own GRAS proprietary customization and integration software solutions.
Rosner commented, "Some of the equally incredible filters, (UBVRI, LRGB, plus Ha, OII and SIII installed on select systems) have been made possible by manufacturers like Astrodon (http://www.astrodon.com) and Custom Scientific (http://www.customscientific.com)."
Rosner went on to say, "Our telescope systems in New Mexico are hosted by Mike and Lynn Rice of New Mexico Skies, an astronomer's guest observatory (http://www.nmskies.com). The New Mexico Skies ground support team has provided such fantastic support that we enjoy a history of almost perfect uptime. As a result our users and researchers successfully captured over 17,000 hours of astronomical imaging with no loss of data.
Rosner went on to explain, "This extremely high level of technological achievement provided us with the confidence to raise the bar another step and introduce our global service." Arnie also noted that our 15th system was just installed at our facility at Moorook, Australia. It should be on line within the next 10 days. G15 is owned by our newest affiliate, Fred Vanderhaven of Australia.
G7, hosted by the Bareket Observatory at Macabim, Israel (http://bareket-astro.com), has just been outfitted with new final stage optics and should be on line in the next day or so for public use (of course with weather permitting).
See what all the fuss is about and download for yourself, this unique application that acts as the gateway to the entire GRAS Telescope Network: (http://grasbill.global-rent-a-scope.com/downloads/GRAS-InfoCenter.zip)
###