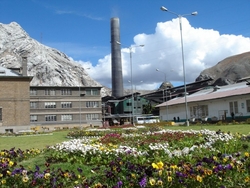 Properly addressing these issues will require more than just money
La Oroya (PRWEB) October 24, 2007
Doe Run Peru has marked 10 years of operations of its metals processing facility in the Andean town of La Oroya, and notes significant progress in addressing environmental issues in the community.
Emissions of contaminants to the Mantaro River eliminated
Particulate and heavy metals emissions reduced by half
Air lead levels down 65 percent from 1997
Blood lead levels of exposed workers down 38 percent
Meeting monthly environmental air quality standards for lead for the first time in facility history
Over the course of the last decade, protecting the environment has become a central factor in decisions about current and future company operations.
"We are fully confident that we will complete our environmental projects within the projected timeframes. We are dedicating virtually all available resources and investing all our profits for this purpose and are committed to continue progressing and to meeting our environmental goals," said Juan Carlos Huyhua, president and general manager of Doe Run Peru.
Huyhua added that in the past decade, the financial commitment Doe Run Peru made when it arrived in La Oroya and later at the Cobriza copper mine became big challenges, ones to which the company was able to respond. When Doe Run Peru purchased the La Oroya facility it agreed with the Peruvian government on its environmental operating agreement (known by the Spanish acronym PAMA). Thus far the company has agreed to spend more than $244 million on environmental improvements in La Oroya, 2.3 times what it agreed to with the government when Doe Run Peru purchased the 80-year-old metallurgical complex in 1997.
"Properly addressing these issues will require more than just money," said Huyhua. "To fully resolve the environmental problems in La Oroya it is essential to have the commitment and full involvement of other players, including the Peruvian government, regional and local authorities, and civil society."
Environmental Progress
After years of work and millions of dollars of investment, the company is proud to point to various accomplishments that benefit not only the company but also the surrounding community:

Mantaro River cleanup. Effluents from the metallurgical facility no longer affect the Mantaro River. The discharges now meet international standards required for water used in agriculture. This has been achieved with a US$ 39 million investment, a sum almost 10 times higher than the original budget for the project.
Reduction in emissions. Emissions from the main stack of particulate matter and heavy metals have dropped by 50% and, for the first time in the history of the metallurgical complex, are within governmental limits.
Air quality. Air lead levels in La Oroya has been reduced by some 65% since 1997. For the first time in the facility's history it now meets monthly Air Quality Standards for lead.
Reduction in fugitive emissions. Fugitive emissions of dust and heavy metals have been reduced with the development of supplemental projects including building enclosures, filter installation, road paving and the implementation of a variety of operational improvements.
Blood lead levels in exposed workers. Blood lead levels in exposed workers have been reduced by 38 percent and now conform to the standards established by the International Labor Organization.
Environmental management systems. Environmental management systems have been implemented and have received ISO 14001 certification, an independent, international certification that is an acknowledgement of the quality of the management processes implemented.
Ministry of Health program.
In addition, since 2003, Doe Run Peru has supported a government led program, run by the Peruvian Ministry of Health to reduce blood lead levels of people in the community, particularly children and pregnant mothers. Doe Run Peru provides logistical and financial support -- $1 million per year -- for the program, which has been recognized as a model for public-private collaboration. This program has the participation of the Regional Government of Junin since 2006.
Added Value
Doe Run Peru is not a company devoted solely to extraction, for it also exports high quality refined metals to markets worldwide. In fact, it is the country's fourth-largest exporter. The metallurgical complex was designed to process poly-metallic concentrates found in Peru's central Andes and transform them into 11 metals and nine byproducts.
About Doe Run Peru:
Doe Run Peru is a mining and metals company operating in Peru's central Andes. The company has run the La Oroya metallurgical complex since 1997 and the Cobriza mine in Huancavelica since 1998, producing high quality refined metals while at the same time working to operate in a socially and environmentally responsible way.
For more information visit: http://www.doerun.com.pe.
###