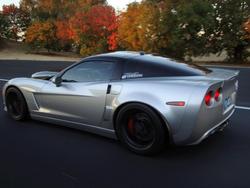 Sacramento, CA (PRWEB) October 24, 2007
SmokinVette.com and Snow Performance are pleased to announce the first SmokinVette.com "Virtual Car Show". Where one Corvette owner will be given a Free Snow Performance Water/Methanol Injection kit, valued at over $400.00. Snow Performance better known as the "Water Methanol Injection Experts" have teamed up with SmokinVette.com for this "Smokin Contest", a car virtual car show that is open to all modified and stock Corvettes. Registration is free.
SmokinVette.com an Corvette Forum and club operated by Corvette enthusiasts for Corvette enthusiast. SmokinVette.com is not your ordinary Corvette forum, yet a Corvette Forum that creates a fun non political environment for Corvette owners and enthusiast to share ideas, views, product reviews, technical, Q&A and much more. SmokinVette.com is open to all Corvette generations from C1 to C5 and C6's. Registration is free and gives the Corvette enthusiast unlimited forum post's and photo uploads in our "Vette Gallery", a collection of Corvettes photos uploaded from Corvette owners around the world, giving them the ability to showcase their stock or modified Corvette. While visiting SmokinVette.com that guest has access to a wide selection of product advertisers some of the most recent to join the proud Smokin family include Ramp Corvette, Corsa, and NITTO.
Snow Performance has earned their name as "The Water/Methanol Injection Experts" by offering top quality injection systems that are easy to install, easy to tune, and provide the best "bang for the buck." The idea that a water and methanol mix can be injected into almost any engine to make more power isn't new by any means. U.S. bomber and fighter pilots of World War II depended on an "Emergency Power" water injection system to give them the upper hand over the enemy. The Society of Automotive Engineers (SAE) have conducted numerous in-depth studies and tests that show how effective water/methanol injection is at reducing intake air temperatures (IAT) and providing detonation control in high output gasoline engines. Snow Performance took the complexity out of water/methanol injection by combining modern technology and high quality components and creating an easy to use package for almost any vehicle.
The SmokinVette.com Corvette Forum virtual car show is open to all Corvette owners C1 through C6 and Z06 owners. To enter the virtual car show is actually a very simply process. The Corvette owner needs to register for free at SmokinVette.com, enter (2-3) photos of their stock or modified Corvette and give a brief description of their Corvette in the "Smokin Contest" Forum at SmokinVette. At the end of contest which ends November 29, 2007, SmokinVette.com and Snow Performance will jointly judge the contestants and select a winner on November 30, 2007. The winner will be announced and featured on SmokinVette.com. For complete rules and to register please visit http://www.smokinvette.com
The Snow Performance Stage 2 Boost Cooler™ system uses a progressive controller that proportionally injects more or less fluid according to an engine load indicator such as boost, vacuum, or mass air flow. Because the Boost Cooler™ systems can read a number of different inputs, it can be used on both naturally aspirated and forced induction applications. Using a progressive system gives the most accurate delivery of water/methanol and allows the most cooling and performance improvement over the widest range. More power and driveability is the result.
The Boost Cooler™ systems provides two benefits: air charge cooling and detonation control. As the highly atomized fluid is injected into the intake air charge, it starts to evaporate. To make this vaporization process happen heat energy is required to make the fluid change states. This heat is directly taken out of the air charge which provides temperature drops of 60-120°+ Fahrenheit. As IATs drop, the density of the air charge increase which supplies more molecules of oxygen for combustion. In the combustion chamber of a gasoline engine, water cannot be "ignited" per se so it has an extremely high effective octane rating. Combined with methanol, the effective increase in octane is usually 20+ points making premium octane pump gas act like 120 octane race gas. This additional detonation suppression allows for more cylinder pressure, more boost and more ignition timing, while being safer than poor quality pump gas alone.
For more information on SmokinVette.com Corvette Forum, Snow Performance, Corvette Photos or more feel free to visit our web site by CLICKING HERE. By registering on SmokinVette.com which only takes a couple of minutes, you not only join an incredible Corvette community, you will also be included in future SmokinVette.com Monthly news letters, full of product reviews, tips, and much more. For up to date news on SmokinVette.com feel free to visit our C6 Corvette Forum Blog.
###