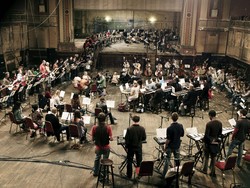 (PRWEB) October 25, 2007
Sony has created the first ever 'monophonic' ad to mark the launch of the latest generation of WALKMAN digital media players. Titled 'Music Pieces', this innovative commercial has been created by Fallon's award-winning team, who were also behind the BRAVIA ad trilogy. The advert can be seen at walkmanproject.com
'Music Pieces' brings a musical experience like.no.other by taking an original piece of music composed by Hollywood music director Peter Raeburn ['Sexy Beast', 'Birth'] and deconstructing it to give 128 musicians just one note each to play in order to reconstruct the melody.
The production gathered the musicians, playing everything from electric guitars and Kalimbas to mini toy grand pianos, in an iconic music venue -- London's Alexandra Palace -- under the direction of top music video director, Nick Gordon [The Kooks, Muse, Supergrass]. The musicians were then arranged by instrument group to form an 'acoustic grid' which created spectacular waves of sound and movement when each note was played in sequence.
Nick Gordon, Director, commented: "This was an ambitious project to work on. We didn't just want to produce an impressive advert, we wanted to challenge people to think about music as an evolving art form. I hope that this inspires discussion and further musical experimentation just as the WALKMAN inspired a technological revolution in portable music players."
Hugo Feiler, General Manager for Audio Marketing Communications at Sony Europe said of the new WALKMAN ad: "This was a hugely complex technical experiment. Not only were we doing something that hadn't been done before musically, but it also needed to provide a unique audio and visual experience. Sony always tries to push the boundaries, and this advert perfectly illustrates that. The combination of many people's talent and passion has produced an organic experience that we are sure will capture consumers' creative imaginations."
walkmanproject.com/
For more information, please contact Silke.Schild @ eu.sony.com
WALKMAN® is a registered trademark of Sony Corporation. The names of actual companies and products mentioned herein may be the trademarks of their respective owners
NOTES TO EDITORS
Facts about production of the new Sony WALKMAN ad
3 day shoot, Alexandra Palace theatre, London
128 musicians
1 conductor
98 microphones (including 5 ambient room microphones)
52 DI's (Direct Inject) for synths and guitars.
2 HD cameras
1 x 30 second take
Instruments list
32 drummers including:
8 Toms
8 Hi Hats/crash cymbals
8 Kick Drums
8 Snare Drums
8 Glockenspiels
1 Toy Glock
6 Kalimbas (thumb pianos)
16 High Synths
4 Bass Synths
4 Toy Pianos
1 Shofar
8 Tubas
4 Melodicas
8 Double Bass
32 Electric Guitars
4 Music boxes
Nick Gordon
Music video director who has worked with bands including The Kooks, Muse, Supergrass, Turin Brakes and Starsailor
Juan Cabral
Creative Director at Fallon and creator of Sony BRAVIA ads - 'Balls', 'Paint' and 'Play-Doh'
Peter Raeburn
Musical director on films including 'Sexy Beast' starring Ben Kingsley and Ray Winstone and 'Birth' starring Nicole Kidman
About Sony:
Sony manufactures audio, video, communications and information technology products for the global consumer and professional markets. With its music, pictures, game and online businesses, Sony is uniquely positioned to be one of the world's leading digital entertainment brands. Sony recorded consolidated global annual sales of EUR 55.83 billion (yen 8,296 billion) for the fiscal year ended March 31, 2007, based on an average market exchange rate for the same period of yen 148.6 to the EUR. It employs approximately 163,000 people worldwide.
In Europe, the Sony Group recorded consolidated annual sales of EUR 13.71 billion (yen 2,038 billion) for the fiscal year ended March 31, 2007. Sony Europe, headquartered at the Sony Center am Potsdamer Platz in Berlin, is responsible for the company's European electronics business and registered consolidated sales of EUR 9.12 billion for the same period.
For more information on Sony Europe, please visit sony-europe.com and sony-europe.com/presscenter.
###