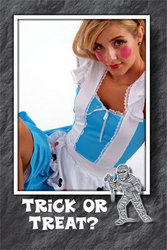 The simple addition of a Framing Station frame transforms an ordinary digital photo into a personalized photo gift
Tustin, Calif. (PRWEB) October 25, 2007
Frame My Photos, LLC has scared up a hit with its new Halloween Frame Pack. Designed for use at home, the pack comes bundled with the company's acclaimed Framing Station software and includes over 250 themed frames for digital photos.
"The simple addition of a Framing Station frame transforms an ordinary digital photo into a personalized photo gift," said Frame My Photos co-founder Ron Fortier. "It's Halloween and holiday season, and Frame My Photos is ready with a complete line of holiday targeted products. The Halloween Frame Pack includes exciting graphics and text treatments, and its fun, fast and easy to use. From moms and party givers to digital camera users, there's something for everyone here."
Included in the newest Frame My Photos pack are Halloween frames for every party, parade and occasion. For quick and easy photo gifts, the pack offers frames proclaiming "Happy Halloween," "Eat, Drink and be Scary," "Baby's First Halloween," "Ghostly Greetings," and "I'm too cute to scare." There are frames for parties, costume awards, and all Halloween activities. Users can choose the appearance of the text on any frame, and frames can be sized to fit the most popular photo sizes-- 4x6, 5x7, 8x10 --as well as the most common paper formats for home photo printers (8.5x11 or letter). , Users can save high resolution (300 dpi) files in all formats to print commercially or to use on social networking or photo sharing websites. Once framed, images are ideal for display, presentation, or scrapbooking and can be printed, made into amazing photo gifts, e-mailed and shared over the Internet.
"The essence of photography is a social one," said Fortier. "People take pictures, make prints and share digital photos so that they and others can view them. The visual equivalent to "If a tree falls in the forest" is the question of "is there really a point in taking a picture that no one ever sees?" Photography is by its nature a social and sharing art, and if you're going to share why not share a personalized photo. Many untouched photos are great photos by themselves, but their intrinsic value, the desire to share them and the appreciation of the recipient is radically increased when personalized using the Framing Station."
Frame My Photos garnered top reviews from over 72 software reviewers last year when it updated the Framing Station. Featuring the company's exclusive Digi-Press rapid response breakthrough, the Framing Station excels at ease of use. In sharp contrast to traditional photo, clip art and digital scrapbooking software, the Framing Station is easily mastered by those new to computers. Just choose a photo, pick a frame, add text (if desired), then print, save, or e-mail your instant work of art.
The Framing Station software enhances digital photos from any source including: digital cameras, camera phones, scanned photos, camcorders, photos from e-mail and off of the Internet. There's no assembling of clip art with the Framing Station, so you don't need to be an artist or computer expert to get amazing results.
For a limited time, the Frame My Photos Halloween Frame Pack with Framing Station is available for just $4.95; teachers and schools receive a 30% discount. "The Halloween Frame Pack is the ultimate in affordability, versatility and creativity," said Fortier. "What's more, it's a whole lot of fun for kids and parents alike."
About Frame My Photos, LLC:
Founded in 2004 by the creative and production team behind Disney's ultra successful Print Studio products, Frame My Photos develops software and artwork that enable consumers to effortlessly personalize their digital photos. Frame My Photos products are sold online at sites including Frame My Photos, Amazon.com, Broderbund and eBay. Frame My Photos has a full service photo gift business that leverages the 74,800 pieces of unique digital art created for the Framing Station Products. The digital frames add the ultimate level of customization for photo mugs, photo mouse pads, and other photo gifts. Frame My Photos is a privately held company headquartered in California. To learn more, visit http://www.framemyphotos.com.
Contact:
Ron Fortier
Frame My Photos, LLC
714-505-1726
###