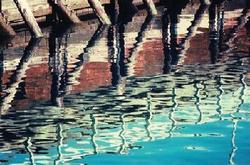 Steven George prints are designed to please. They're visually stimulating and blend perfectly with home and office interiors
La Quinta, CA (PRWEB) October 25, 2007
Artistic, pictorial photo images come fresh to the marketplace from the Steven George Collection, available in five formats from the artist's new line at Store.StevenGeorgeCollection.com. Over the course of thirty-five years and while touring across the United States by motorbike, the artist has developed hundreds of images, many captured during the seventies and eighties. To complement the viewer's experience of browsing through these images, the artist has designed the site with a personal feel where visitors can listen to some of the artist's music.
Steven George, who plays piano professionally and has years of experience in the interior design industry, offers images that emphasize photographic beauty formatted to enhance any home or office setting. His approach is to create works of art that appear soft and smooth, similar to the effects in impressionistic art.
"Steven George prints are designed to please. They're visually stimulating and blend perfectly with home and office interiors," says Steven George. "We like to think we have a little something for everyone," he adds.
The photographs are available in five formats, each appropriate to its own setting or purpose. The customer may select an image from a number of categories, ranging from intriguing abstracts to photographic seascapes, and then choose a format. These include the 4x6 postcard, 8.5x11 prints, with or without frames, and the 24x36 limited edition giclee on gallery-wrapped canvas, with or without a black wood frame. All images are produced on quality materials and are signed and inspected by the artist to ensure integrity.
The artist explains: "All Steven George prints are personally signed, elevating their value to a higher level."
In addition to the photographs, two compact discs of piano music performed by Sanders are available to the public for purchase, "Just Piano" and "Sounds of Time." Also, visitors to StevenGeorgeCollection.com can view the "Colorado Trip" page, which recounts with narratives and imagery a recent trip to Colorado.
For more information about the new line of photographic images, please visit StevenGeorgeCollection.com.
About the artist: A motorcycle touring enthusiast, Steven George Sanders has been creating and selling his images captured in many locations since 1980. The new line of images offered on his site reflects newer technologies, such as the processes used to create digital photographic art. He worked professionally in the furniture and design industry for 16 years and performs as a professional pianist, having been initially inspired by the jazz greats at the Lighthouse in 1966. Currently he operates a same-day messenger business, Coachella Valley Messenger, in the Palm Springs area of Coachella Valley.
###