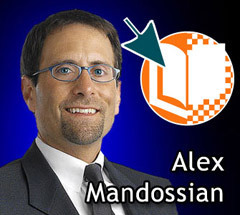 The show must go on
Novato, CA (PRWEB) October 25, 2007
Alex Mandossian, one of the top Internet direct marketers in America, has just released a new article on his web site. The article, "Teleseminars: How to Maximize The Experience for Your Participants While Maximizing Profits for Yourself" is available for immediate download at http://www.AlexMandossian.com.
In this article, Mandossian reviews several of the pitfalls that can ruin the Teleseminar experience for participants.
"As easy as Telesminars or tele-training are, there are a few things to watch out for, not only to benefit the enjoyment of your participants, but to protect the content - and future profits - for yourself," Mandossian said.
Mandossian details little annoyances that can have big effects, such as leaving the entry beep on, to things that can suggest disorganization and disrespect, such as starting your call late, not having a back-up recording and not having a back-up plan if things go wrong.
In one instance, Mandossian conducted two hours of Teleseminar training via cell phone from his daughter's closet because his power went out. "The show must go on," he said.
Mandossian also addresses the power of repurposing and providing participants with multiple formats of your information to choose from.
Future articles about Teleseminars address tips for entrepreneurs, small business owners and other to harness the power of Teleseminars, including:

The beauty of Teleseminars and the "one-on-many" approach to sales and marketing intimacy.
Why Teleseminars are so profitable - and what you can do to make the most money with the least amount of time.
A proven 3-step method to capture more profits, faster, better and with less effort
How to create fast and easy content for Teleseminars that sell
You can download the entire series at AlexMandossian.com.
Alex Mandossian has consulted Dale Carnegie Training, NYU, Agora Publishing, Mutuals.com, Pinnacle Care, Strategic Coach, Trim Spa as well as thought leaders such as Jack Canfield, Vic Conant, Mark Victor Hansen, Les Brown and many others. He has trained over 14,000 Teleseminar students and claims that he can train practically any Entrepreneurial-CEO to transform their annual income into a monthly income in less than 3 years after applying his principle-centered Teleseminar strategies.
More information can be found at http://www.AlexMandossian.com, including the opportunity to download his free ebook, 5 Secrets To Making Change Now. More information about Teleseminar Secrets can be found at http://www.Teleseminarsecrets.com.
###